Legends of Bulldogs baseball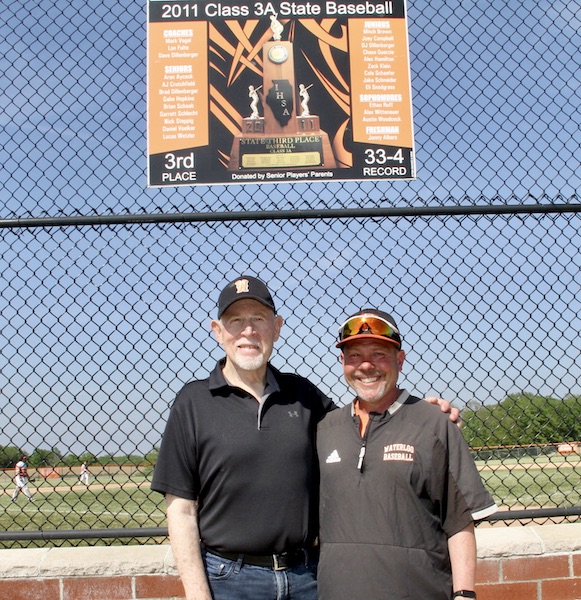 It's not often that someone who played for a legendary head coach gets to celebrate surpassing their mentor's school record for wins.
Such was the case last Tuesday as longtime Waterloo High School head baseball coach Mark Vogel presented a ball signed by his 2023 squad to legendary former Bulldogs coach Lon Fulte prior to a home game.
With a May 5 victory at Althoff, Vogel passed Fulte for most career baseball victories at WHS.
Vogel, who has served as head coach since 1993 and played for Fulte, now has 572 career wins.
Fulte, who coached from 1969 to 1989, had 568 victories.
A 1986 WHS graduate, Vogel played under Fulte before starring on the diamond for Kaskaskia College and then Northern Iowa. He was a key member of Fulte's 1984 Bulldogs squad that advanced to the Class A state tournament.
Fulte expressed pride that Vogel was the one to eclipse his school record for wins.
"(It) couldn't happen to a better guy, I'll tell you that," Fulte said during last Tuesday's presentation.
With Fulte serving as an assistant under Vogel, the 2011 Bulldogs went 33-4 and placed third in the Class 3A state tournament.
Vogel's 2019 squad also placed third at state.
The current WHS wins record holder praised his mentor as a driving force for longevity and success in the coaching position.
"I wouldn't be here without him," Vogel said. "My baseball career wouldn't exist if it wasn't for him. There's no way baseball would be for me what it is without him. He taught me so much on how to play the game."
Vogel added that Fulte was the most competitive person he's ever been around.
"He taught me about that, too," Vogel said, after which both coaching legends shared a laugh.