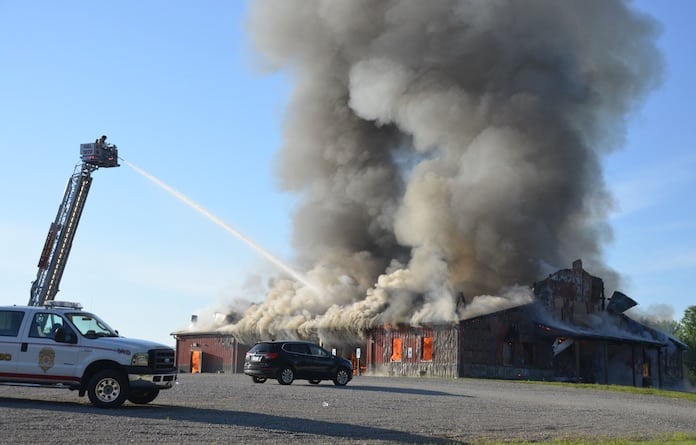 The owners of a new wedding venue vow to rebuild following a devastating fire.
"We're not quitters. We'll definitely be back," Sugar Spring Ranch owner Greg Meyer said.
Several area departments assisted Columbia in responding to a fully involved structure fire early Sunday morning at Sugar Spring Ranch, 1385 Centerville Road.
The 8,000-square-foot barn used for weddings and other special events was ablaze upon firefighter arrival about 6:40 a.m. The structure, which burned completely to the ground, was not occupied during the incident.
"Flames were already shooting through the roof and all the windows when we got there," Columbia Fire Chief Mike Roediger said. "There was really no reason to go inside. It was a defensive attack for us."
A neighbor saw smoke and called 911 to alert the fire department. Neighbors reported hearing some sort of explosion around the time of the fire. Roediger said the explosion likely came from compressed air tanks used for fountain soda in the venue's kitchen area.
Sugar Spring Ranch, which opened earlier this year, hosted a wedding Saturday night, Roediger said, adding that the last employee left from the building about 1 or 2 a.m.
Sugar Spring Ranch did not yet have a sprinkler system fully installed, Roediger said. The venue was planning to have that completed this coming Tuesday.
Meyer confirmed that the sprinkler system was nearly complete and just needed a final hookup.
Per an agreement with the county as part of a temporary occupancy permit granted for Sugar Spring Ranch until the fire suppression system was operational, the Columbia Fire Department had a truck and manpower in the parking lot during all events.
Roediger said that was the case for Saturday night's event, with the fire truck departing from Sugar Spring Ranch about 11 p.m.
The Illinois State Fire Marshal was requested to the scene to assist in an investigation. Roediger would not speculate on a cause of the fire due to the massive damage caused by the blaze.
Assisting Columbia at the scene were the Millstadt, Waterloo, Smithton, Hecker and Cahokia fire departments, with Dupo standing by at Columbia's fire station. Roediger estimated about 50-60 firefighters participated in the incident.
Firefighters returned to the scene late Sunday evening after the smoldering rubble rekindled.
"The good thing is no one was hurt," Meyer said. "That's what you can't bring back. The building and that sort of thing, you can reconstruct. I'd rather my house burn down than this place.
Meyer said the venue was something his wife Melinda was passionate about.
"We never did this just to make money," Meyer said. "We did this because it was a dream of my wife's, and I just did it to make her happy."
Sugar Spring Ranch, which had weddings booked into 2022, posted on its Facebook page that it "will be back."
Meyer said that they plan to get in touch with those who already had booked events at Sugar Spring Ranch figure out what to do.
As for now, the Meyers will have to wait until insurance weighs in on the incident before rebuilding.
"We also sincerely thank all of you that have reached out and offered thoughts and prayers. The entire Sugar Spring family is humbled by the overwhelming support," the venue posted on Facebook.
For a short video of the fire, click here.
(James "Tal" Moss contributed reporting on this article)