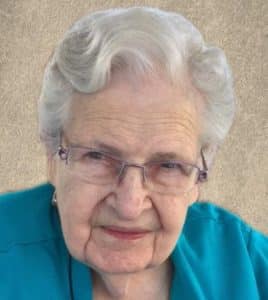 Johnnie M.  Ital (nee Pate), 93, of Waterloo, formerly of Fults, died April 10, 2017, in Waterloo.
She was born June 29, 1923, in Tilden, Miss., the oldest daughter of share cropper John Booker and Susie Mae Pate  (nee Steele).
As was the custom of those times, she was depended upon to help raise her younger siblings as well as helping in the fields.
At the early age of 18, she left the rural farm life to go work in the shipyards of Zion during World War II to help support her family back in Mississippi.
She enjoyed her family, gardening and her flowers. She was well known for canning jars upon jars of vegetables and soup, to carry us through the winter.
She had a big heart and was always ready to help her family.
She is survived by her children Larry (Dorothy) Ital of Belleville, Keith (Jackie) Ital Sr. of Harrisburg, Joseph Ital, and Janice (Allan) Keim of Waterloo; eight grandchildren, Larry David (Karen) Ital, Donald (Andrea) Ital, Keith Ital Jr., Jesse (Katie) Ital, DeAnn (Tom) Hughes, Jennifer Mae (Ray) Frame, Jeffrey (Tracey) Ital, and Ian (Laura) Ital; 12 great-grandchildren, Keith Ital, Madison Ital, Noel Ital, RJ Ital, Liam Ital, Aaron DeNoon, Doug DeNoon, Rachelle DeNoon, Blake Frame, Haley Mae Frame, Hallie DeAnn Hughes and Ava Kate Hughes; sister Isa Eloise Giernoth (nee Pate) of Zion; and sister-in-law Brenda Pate of New Wren, Miss.; as well as many nieces and nephews.
She was preceded in death by her parents; husband Henry W. Ital Jr.; son Edward Ital; brothers Melvin Leecil Pate, Ackles Leo Pate and George D. Franklin Pate; and  sisters; Enola Ann Powell (nee Pate), Etah McMickin (nee Pate); Euple Nell Watkins (nee Pate); Eugenia Ruth Smith (nee Pate) and Charlie Ray Hurley (nee Pate).
Visitation and funeral services were April 13, at Quernheim Funeral Home, Waterloo, Pastor Steve Neill officiating.
Interment followed at Kolmer Memorial Cemetery, Waterloo.
As an expression of sympathy the family prefers memorial contributions to Waterloo Senior Center.