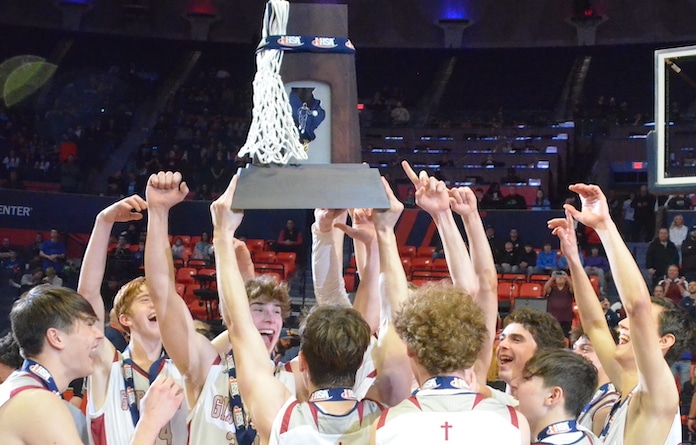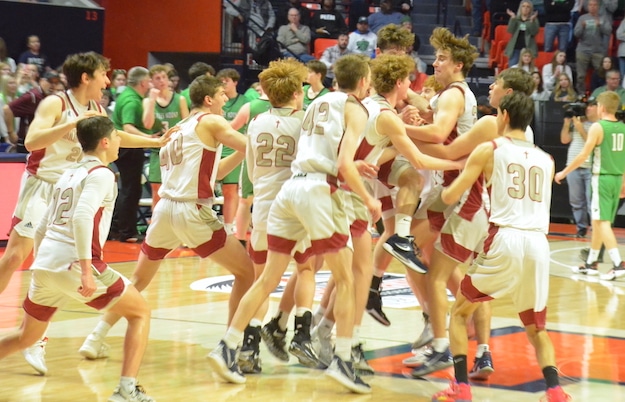 History was made Saturday in the State Farm Center at the University of Illinois in Champaign.
The Gibault Catholic High School boys basketball team defeated Scales Mound, 65-45, to capture the IHSA Class 1A state title.
It was the first such championship in the sport for the Hawks and for all of Monroe County. Gibault's last attempt resulted in a loss during the waning seconds of the 1999 state final.
Gibault went up comfortably early, 14-2, but Scales Mound battled back to make it just a two-point lead for the Hawks at halftime, 25-23.
Scales Mound took a 26-25 lead in the first minute of the third quarter, after which the teams traded baskets for much of the frame – including several three-pointers.
Gibault held a 45-39 edge entering the fourth quarter when junior Hudson Blank gave them some late breathing room. Blank hit two straight three-pointers to give his team a 53-39 advantage with 5:26 remaining in the contest.
Gibault went on a 29-8 run to close out the game.
Kaden Augustine, a senior all-stater, led Gibault with 24 points – including 9-of-10 shooting from the free-throw line. He led the team in scoring this season at 17.1 points per game.
"There's nothing like making shots in that gym and my teammates finding me and us being up," Augustine said at the post-game press conference.
When Augustine was asked if he thought it was special winning a title for Gibault head coach Dennis Rueter, the longtime coaching legend interrupted.
"He got one for himself and his teammates," Rueter said. "I've always said, 'don't win this thing for me. I've been here 43 years and I've had a lot of good things happen for me. Win it for your teammates.'"
Gavin Kesler, a junior, contributed 18 points and seven rebounds.
Another senior all-stater, Kameron Hanvey, had nine assists and five steals to go along with four points.
"We knew what we needed to do," Hanvey said about his team's state title quest. "We took our roles, I think, as a team and that's why we were able to do it."
Blank added 15 points.
Rueter said the hot start for his team Saturday may have been a negative, as Scales Mound outworked the comfortable Hawks to get back in it.
Thankfully, Gibault was able to re-focus and get back to playing aggressive defense.
"The key was the way we handled the third quarter," Rueter said. "We took care of the ball well and made free throws."
For Rueter, the win was the icing on the cake of a 43-year tenure that now has brought his hoops program 796 victories.
"It doesn't get a whole lot better than this," Rueter told reporters after the game.
When asked by one media outlet if this was the end of his coaching career, Rueter responding by asking "Do you know something I don't?" – drawing laughter from those attending the press conference.
Rueter said he will step back and evaluate his situation during the off-season.
"I still enjoy coaching," he said.
Asked if Saturday's title win made up for the heartbreaking loss in 1999, Rueter disagreed.
"While it's certainly enjoyable, I don't look at it as any vindication for '99," he said. "Maybe we're a little lucky, in the supersectional, with a last-second shot. In '99, we got beat by a last-second shot. Maybe the basketball gods kind of stepped up and helped us out a little bit. It's about these kids, not about the kids in '99."
A parade welcoming home the state champs took place Sunday afternoon in downtown Waterloo, ending with a reception in the Gibault gym.
Twenty-four years since the school's last trip to the state tourney, the Hawks won by 24 points Thursday morning over Bloomington's Cornerstone Christian Academy in the state semifinal to advance to Saturday's title game. Gibault used suffocating team defense with physical, aggressive play to force several turnovers and build an early lead it would not relinquish.
A Hanvey three-pointer put the Hawks up 20-8 at the start of the second quarter.
Hanvey, who sent Gibault to state with a buzzer-beating three-pointer last Monday night, finished with 16 points and a Class 1A state semifinal record nine assists to go along with six steals.
"Great team defense. Everyone helped force turnovers," Hanvey said after the game.
An offensive rebound and putback by Kesler gave the Hawks a 60-41 lead with four minutes remaining in the contest and Gibault made it 66-46 with 1:50 left. The final score was 70-46.
Augustine led the Hawks with 20 points, with Kesler adding 14 points.
The Hawks shot 58.5 percent from the floor and recorded 11 offensive rebounds on the day.
Gibault scored 19 points off 18 total Cornerstone Christian turnovers.
"I don't know if anyone is more confident than we are right now," Rueter said after Thursday's victory.
After the nets were cut down and the main trophy was awarded, Rueter was asked about his team's path this season. Gibault lost its season-opener, 51-50, at Waterloo on Nov. 26 and proceeded to win 18 of its next 20 games.
"We came in and we thought, yeah OK, we'll beat (Waterloo) and we didn't, and I think maybe it was a little bit of an awakening that we're gonna have to work a little harder," Rueter told the Republic-Times. "We say it all the time: 'Being good is not easy.'"
The Hawks ended the season on an eight-game winning streak. Their 32 wins is a school record.
"We felt like once we got up here that we had a pretty good shot at it," Rueter said.