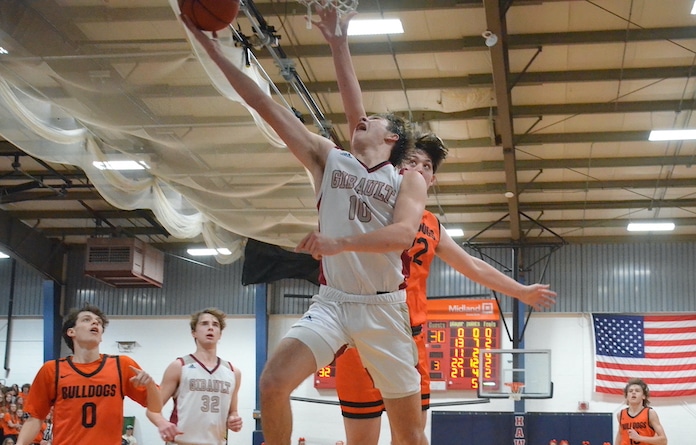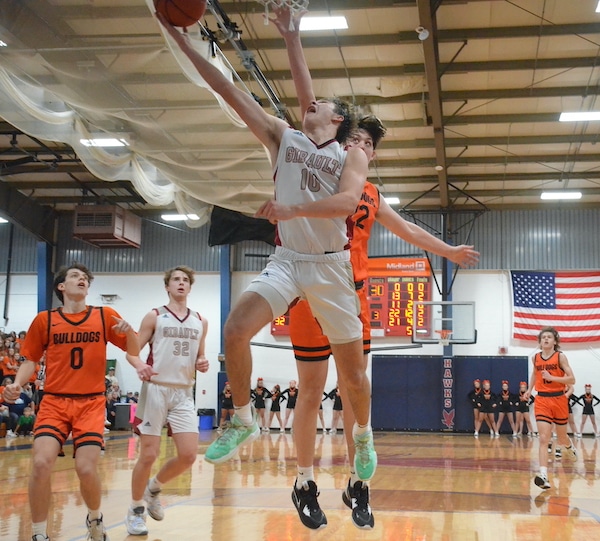 With the regular season winding down and regionals looming, there was a playoff-like atmosphere to Saturday's boys basketball "Battle of Waterloo" at Gibault.
The Hawks posted a 58-49 victory over the Bulldogs in an entertaining rivalry contest.
Gibault (24-6), which lost at Waterloo (8-22) to open the season, had led much of this game until a basket finally gave Waterloo a lead of 28-27 at 6:54 of the third quarter. 
The Hawks had led 19-11 after one quarter and 27-23 at halftime.
A bucket by Waterloo's Alex Stell tied the game at 30-30 with about a minute to play in the third quarter before Gibault's Gavin Kesler drained a three-pointer to give the Hawks a 40-37 edge entering the final frame.
That seemed to energize Gibault for the fourth quarter, with the Hawks outscoring the 'Dogs 18-12 to close out the game.
Gibault senior Kaden Augustine led all scorers with 25 points on senior night. Kesler, a junior, added 14 points and nine rebounds.
Stell, a 6-foot-9 sophomore, led the Bulldogs with 23 points, 12 rebounds and three blocks.
Last Tuesday, the Hawks won 57-27 at Granite City. Gibault shot 66.7 percent from the floor, led by senior Kameron Hanvey with 18 points.
Gibault hosted Highland on Tuesday, winning 52-51 on an offensive rebound put-back by Owen Mechler. The Hawks outscored Highland 17-8 in the fourth quarter in the come-from-behind victory.
Gibault hosts Marquette on Thursday.
Augustine is averaging 16 points per game this season and is shooting 42 percent from three-point range.
Kesler is averaging 15.1 points per contest.
Prior to Saturday's loss, Waterloo won 58-51 at home over Jerseyville on senior night.
Stell again led the way with 22 points, 14 rebounds and three blocks. Wyatt Fink, a senior, added 12 points.
Last Wednesday, the 'Dogs won 51-45 at Salem. Stell had seven points and six rebounds.
Waterloo plays Thursday at Highland.
Stell is averaging 13.6 points, 10.3 rebounds and nearly three blocks per game this season.
Fink is averaging 11.2 points per game.
Columbia (27-3) finally had its 17-game winning streak snapped last Tuesday night at home against high-ranked Cahokia Conference foe Breese Central, 50-39.
The Eagles lost the turnover battle in this one, 15-9, and were outscored to the tune of 34-25 in the second half.
Jack Steckler led Columbia with 13 points.
The Eagles got back to their winning ways Friday at home against Roxana on senior night.
Columbia won 70-42, led by senior Dylan Murphy with 24 points. Steckler, also a senior, added 18 points.
Brody Landgraf, a 6-foot-5 freshman, added 11 points and 10 rebounds.
Columbia hosted Freeburg on Tuesday, winning 58-47 after a 15-4 run in the fourth quarter. Landgraf had 17 points and 12 rebounds.
Columbia faces a rematch at Breese Central this Thursday night.
Murphy leads the Eagles in scoring this season at 18.3 points per game, including 44 percent shooting from three-point range.
Steckler is averaging 13.4 points per game.
Sam Donald, a sophomore, is averaging nearly 13 points per game.
Valmeyer (8-17) won 77-29 at Dupo on Friday. The Pirates led 28-2 after the first quarter.
Aiden Crossin scored 20 points and grabbed 10 rebounds to pace the Pirates. Harry Miller added 19 points and rebounds. Other key players for Valmeyer were Landon Roy (17 points, nine rebounds) and Luke Blackwell (12 points, 13 rebounds).
Valmeyer hosted Lebanon on Tuesday, winning 55-39 thanks to 28 points and 11 steals from Miller.
Valmeyer plays Wednesday at Roxana and Thursday at Maryville Christian.
Miller leads the Pirates in scoring this season at 20.6 points per game. He's also averaging more than three steals per game.
In Friday's loss to Valmeyer, Sam Stoffel led Dupo with 14 points.
Dupo (3-16) lost last Wednesday at Sandoval, 78-34. Deegan Prater led the Tigers with 12 points.
The Tigers played Tuesday at Steeleville.
Regionals set
The IHSA regional pairings were announced Friday, with three local squads lumped into the same tournament.
The Class 1A Dupo Regional features Gibault, Valmeyer and Dupo.
Gibault hosts Lebanon at 4 p.m. Saturday. Dupo plays 6:15 p.m. Saturday at Lovejoy. Valmeyer plays 6 p.m. Saturday at Maryville Christian.
Also at this regional are SIUE Charter and Father McGivney.
The winners of the Saturday games play Wednesday at Dupo.
Columbia opens Class 2A Sparta Regional play Feb. 22 against the winner of Sparta vs. Red Bud.
Waterloo opens Class 3A Mascoutah Regional play Feb. 22 against Centralia.