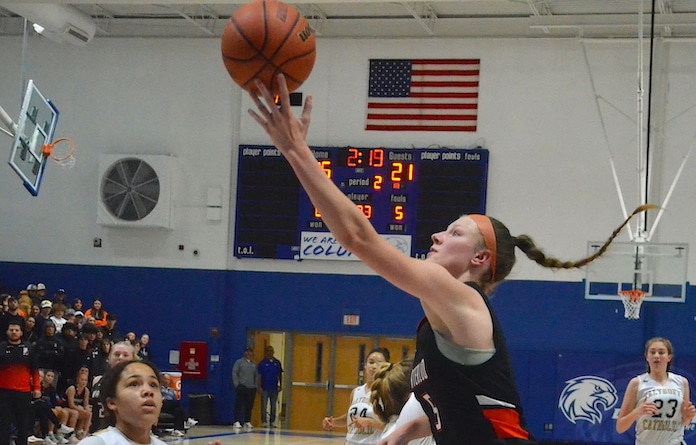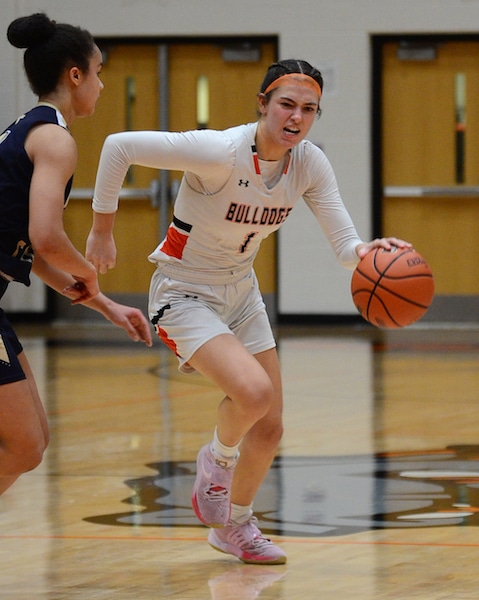 The postseason is underway for high school girls basketball, but only one of the five local teams was still alive following regional play Tuesday night. 
Waterloo (19-10) had its sight set on a regional championship ever since last season's overtime loss at Triad in the regional final.
The Bulldogs opened Class 3A Highland Regional play Monday with a 68-54 win over Civic Memorial.
Norah Gum led Waterloo with 27 points and 11 rebounds, Sam Lindhorst added 15 points and 13 assists, Liv Colson chipped in with 12 points (nine on three-pointers) and Aubrey Heck even got into the act with 10 points and six rebounds.
It marked the fourth straight win for the Bulldogs, who are seeking to capture the program's first regional championship.
Waterloo plays 7 p.m. Friday at Highland in the regional final, having lost twice already to the regional host.
On Jan. 7, Waterloo lost 54-52. On Nov. 28, Highland posted a 60-54 win.
A regional title victory would move Waterloo on to the Centralia Sectional on Tuesday.
Waterloo closed out its regular season with senior night at home Thursday against Jerseyville, winning 79-55. In a nice show of sportsmanship, Jerseyville allowed Waterloo senior Rylee Ivers to score a basket at the start for her first points of the season. She has been hobbled by injuries all season.
Gum again led the way with 31 points and 16 rebounds. Lindhorst added 22 points, eight rebounds and nine assists.
Gum is averaging 20.6 points and nearly 10 rebounds per game this season.
In Class 2A, Columbia (20-11) opened regional play at home Saturday with a 70-30 victory over Red Bud. Karsen Jany scored 20 points and Jordan Holten added 18 points for the Eagles, who shot nearly 64 percent from the floor.
Columbia played Tuesday night at Althoff for a berth in Thursday's regional final, falling 52-44. Holten scored 18 and Jany scored 14.
The Eagles ended their regular season Thursday with a 52-35 win at Roxana. Jany had 27 points and nine rebounds. Holten added 14 points and eight rebounds.
Dupo (14-12) began Class 1A regional play Saturday at home against Sandoval, moving on with a 47-44 win.
Addison Mitchell led the Tigers with 14 points, followed by T'yonna Burris and Kyann Prater with 11 points each.
Dupo played at Okawville on Tuesday night for a berth in Thursday's regional final, falling 71-14.
The Tigers concluded regular season play with a 49-34 win Thursday at Valmeyer. The game was tied 17-17 at halftime.
Burris led the way for Dupo with 21 points and 19 rebounds. Steffany Stansch added 14 points.
Gibault (17-10) ended its season with a loss to Marissa on Monday, 38-23, in a Class 1A regional contest.
The Hawks were outscored 22-9 in the second half.
Kailynne Small scored 15 points for Gibault, which won its first 11 games to start the season.
Valmeyer (8-17) ended its season with a 48-40 loss Saturday at New Athens in a Class 1A regional tilt.
Brooke Miller led the Pirates with 30 points, six rebounds and four blocks. The junior will look to lead Valmeyer again next season.
In Thursday's regular season finale against Dupo, Miller led the Pirates with 14 points.