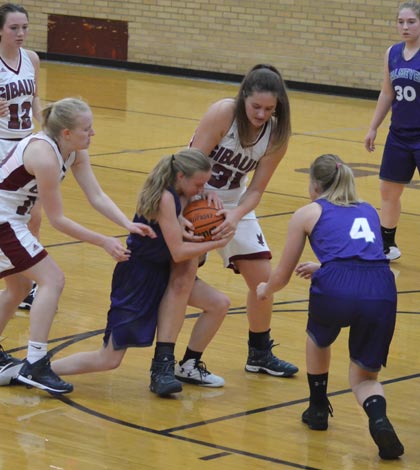 The local high school girls basketball season got off to a busy start last week with two tip-off tournaments.
The Gibault Catholic High School girls basketball team dropped a 40-39 contest to Father McGivney in the championship game of the Dupo Cat Classic on Saturday. 
Gibault (2-1) stormed out to a 10-4 lead after one quarter, but it was a back-and-forth game from there with Father McGivney emerging victorious.
Ashlyn Wightman, who was solid all tournament, led the Hawks with 15 points, 10 rebounds and seven blocks in the loss. Lexi Chambers added 10 points, 11 rebounds and five steals.
Gibault advanced to the championship game of the Cat Classic by virtue of a 39-38 victory over Marissa last Wednesday night. Freshman Maddie Davis led the Hawks with 15 points on 6-for-8 shooting. Wightman added nine points and 17 rebounds.
The Hawks won their opening game of the tourney last Monday, 63-13, over Valmeyer. Chambers scored 16 points and pulled down 13 rebounds to lead the Hawks. Wightman added 11 points.
Gibault hosted Dupo on Monday night and played at Marissa on Tuesday.
In a Cat Classic consolation game played earlier Saturday, Dupo took down Valmeyer, 33-23. Cameron Foster led the Tigers with 11 points; Tinleigh Jakimaukas scored 16 points to lead the Pirates.
Valmeyer lost all three games of the tourney. Dupo went 1-2 in its tourney.
The Pirates played at Red Bud on Tuesday.
Columbia (1-2) lost to Triad in the third place game of the Columbia Tip-Off Classic on Saturday, 44-33. The Knights led 25-9 at halftime before the Eagles mounted a strong second half comeback.
 Sophia Bonaldi led Columbia with 13 points.
Columbia dropped a 59-58 heartbreaker to Greenville in tourney action from Thursday night. Lexi Touchette scored 22 points to lead the Eagles. Whitney Edwards added 18 points and 15 rebounds. 
Columbia opened tourney play with a 54-24 victory over rival Waterloo last Tuesday. The Eagles led 37-8 at halftime.
Bonaldi was the star again for the Eagles, scoring 22 points, including 4-for-4 shooting from three-point range. Edwards added 12 points and 12 rebounds.
Columbia plays at Freeburg on Monday night.
Sydney Luedeman led the Bulldogs with eight points on the night.
Waterloo lost all three games of the tournament, falling 49-29 to New Athens on Thursday and 58-28 to Metro-East Lutheran on Saturday.
Luedeman scored eight points to lead Waterloo scorers against New Athens; Haley Aldridge led the way with nine points for Waterloo against Metro-East Lutheran.
Waterloo played at Althoff on Tuesday and will play at Jerseyville on Monday.