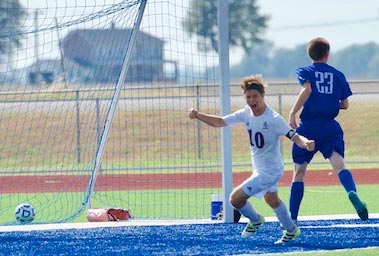 The Gibault soccer team advanced to the finals of its own Class 1A sectional Tuesday night with a 3-0 win over Breese Central at Oerter Park in Columbia.
Following a scoreless first half, the Hawks got goals from Dalton Scace and Ben Mueth in the second half before a Kyle Rocca blast from 30 yards out found the net with just three minutes remaining for the icing on the cake.
Mueth and Scace scored the goals in Gibault's 2-1 regional final win Saturday at Freeburg.
The Hawks (13-7-1) will take on Catholic rival Althoff in Friday's sectional championship game at 6 p.m. Gibault defeated Althoff, 2-0, on Sept. 28. Althoff won 4-0 over Mater Dei on Tuesday to advance to the sectional championship.
Read about Gibault's regional championship win in the Oct. 19 issue of the Republic-Times newspaper.