Girls hoopsters keep battling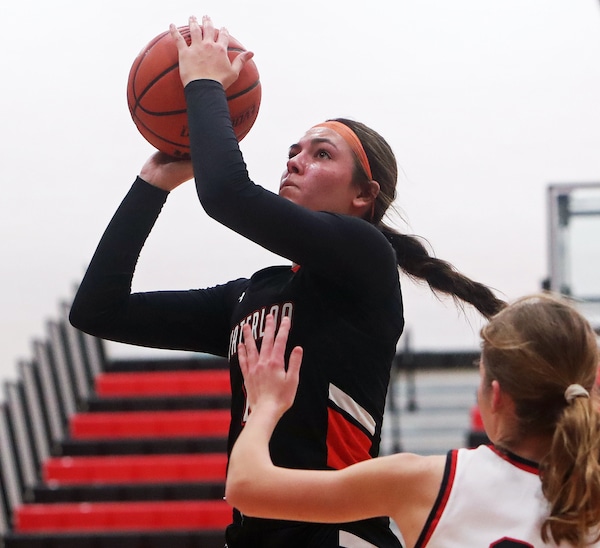 The season has just passed the midway point for high school girls basketball, and more than a few local teams have shown potential for positive campaigns.
But there's still plenty of work to be done.
Waterloo (12-6) posted a 56-50 victory over Collinsville on Monday. Norah Gum led the way with 20 points and 10 rebounds. Sam Lindhorst added 18 points and five assists.
On Saturday, Waterloo dropped a 54-52 heartbreaker to open the Highland Optimist Shootout. Waterloo led 30-19 at halftime but was unable to withstand a comeback by the host Bulldogs.
Gum again led the way with 23 points and 10 rebounds. Lindhorst contributed 17 points, nine rebounds, five assists and six steals.
Waterloo hosts Mississippi Valley Conferences foe Triad on Thursday before doing battle late Saturday morning with Teutopolis in Highland.
Gibault (13-5) split two recent contests.
On Monday, the Hawks won 54-34 over Valmeyer. Gibault led 18-1 after the first quarter and coasted from there.
On Thursday, the Hawks suffered a 60-30 loss at the hands of Father McGivney.
Gibault hosts Roxana on Wednesday.
Kailynne Small has been the top player for the Hawks thus far this season.
Columbia (13-7) also split two recent games.
On Monday, the Eagles won 49-29 at Centralia. Karsen Jany led the way with 20 points and 10 rebounds. Sam Schmuke added 12 points.
On Thursday, Columbia dropped a hard-fought 54-48 contest against Freeburg. Jany again led the way with 22 points. Jordan Holten added 16 points and nine rebounds.
Columbia plays Thursday at Wood River and Monday at Granite City.
Prior to Monday's loss against Gibault, Valmeyer (5-11) dropped a 39-25 contest to New Athens to conclude play in the Chester tournament on Saturday. Brooke Miller led the Pirates with 15 points.
On Thursday, Valmeyer topped Lebanon by the count of 64-35. A 26-2 run in the third quarter put the Pirates on their way. Miller scored 33 points and pulled down nine rebounds.
Last Wednesday, Valmeyer won 48-36 over Cobden at the Chester tourney. Miller scored 17 points and had six blocks. Avery Proffer added 16 points.
The Pirates play Thursday at New Athens.
Dupo (8-8) lost 42-32 to Sparta to close out Chester tourney play Saturday. T'Yonna Burris led the Tigers with 14 points and 10 rebounds.
On Thursday, Dupo lost 54-28 to Chester.
Last Tuesday, the Tigers won 43-24 over Steeleville thanks to 18 points and 12 steals from Alexia Lewis and 11 points by Burris.
Dupo plays Thursday at Marissa.