Girls hoopsters in action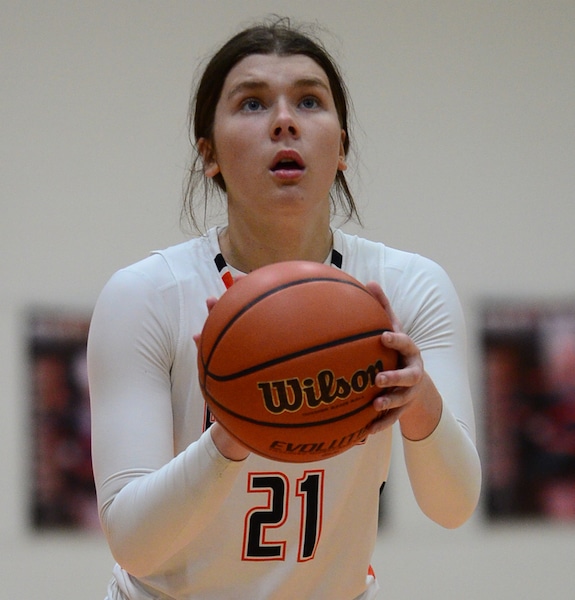 The high school girls basketball season tipped off last week, as local squads got an early taste of what's to come this winter.
Columbia won two of three games at its annual Columbia Tip-Off Classic to take second place.
Following a 51-27 win over Marquette last Monday, the Eagles picked up a 43-40 victory last Wednesday over Father McGivney.
It marked longtime Eagles head coach Scott Germain's 250th career victory.
Jordan Holten led Columbia with 29 points and 10 rebounds. Sam Schmuke added six points, eight assists and five steals.
On Saturday, Columbia lost to Carlyle in the tourney's championship game, 63-43. The game was tied 14-14 after the first quarter, but Carlyle went on a 21-7 run in the second quarter to pull away.
Schmuke led the Eagles with 16 points. Ava Langhans added 11 points.
Columbia played Tuesday at Jerseyville, falling 62-53. The game was tied after three quarters.
Waterloo went 1-2 at the Columbia tourney. After falling 53-32 to Carlyle last Tuesday, the Bulldogs lost 53-47 to Triad on Thursday.
On Saturday, Waterloo won 42-36 over Marquette.
Kristin Smith is averaging 14 points and 9.5 rebounds per game and Liv Colson is averaging nearly 13 points and eight rebounds per game for Waterloo in the early going.
Waterloo hosted Belleville West on Tuesday, winning 58-40. Kate Lindhorst led the 'Dogs with 12 points. Colson contributed nine points, 10 rebounds and seven steals.
Waterloo plays Monday at Highland.
Gibault is 2-2 on the season.
The Hawks lost 34-20 to Roxana last Tuesday in the Dupo Cat Classic, then topped Metro East Lutheran on Thursday, 39-14, and downed Dupo, 42-16, on Saturday for the consolation championship.
Gibault will rely on other players to score points this season after losing last year's top scorer Kailynne Small, who moved to University City.
The Hawks played Tuesday at Marissa, falling 37-29 in overtime. Libby Mesch led Gibault with 12 points.
The Hawks host New Athens on Monday and travel Tuesday to Chester.
Valmeyer went 0-2 at the Dupo Cat Classic.
The Pirates lost 51-31 to Roxana on Thursday. Brooke Miller poured in 16 points, with Kierstin Miller adding eight points and 14 rebounds.
On Saturday, Valmeyer lost 28-21 to Marissa. Brooke Miller scored nine points, grabbed seven rebounds and blocked four shots.
Valmeyer takes on Lebanon at home this coming Monday.