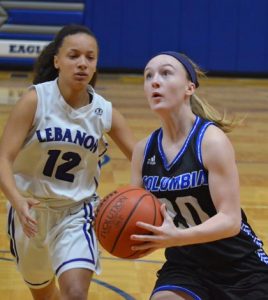 The Columbia Eagles ran into a tough Lebanon squad in the championship game of the Columbia Tipoff Classic on Saturday, ending a busy week of girls high school basketball action.
The Greyhounds took the tourney title with a 49-33 victory over the host team. Lebanon led 11-0 after the first quarter and never looked back. Columbia trailed 28-15 at halftime.
Courtney Weilbacher led the Eagles with 13 points, including 3-for-5 shooting from three-point range, and five rebounds. Madelyne Juenger added six points and five rebounds.
After opening the season with a 50-37 win over Marquette to begin the tourney, Columbia edged Triad last Wednesday, 35-33, to advance to the title game. Blair Wittenbrink sank the game-winning shot for the Eagles.
Juenger led the way with 14 points and three blocks for Columbia. Weilbacher added 10 points, seven rebounds and three steals.
Columbia (2-1) hosted Carlyle on Tuesday in its Cahokia Conference opener.
In other Columbia tourney play, Waterloo improved to 2-1 on the young season with a 54-28 win over Metro East Lutheran on Thursday, followed by a 40-28 win on Saturday.
Kat Finnerty led the way with 11 points and 10 rebounds in the win over Metro East Lutheran. Jessica Whiteside and Mollie Zeisset added 10 points each.
The Bulldogs will open Mississippi Valley Conference play by hosting Jerseyville on Monday.
Gibault is also off to a 2-1 start to the season following play in the Cat Classic at Dupo High School. The Hawks followed an opening game loss with wins over Father McGivney, 42-10, on Thursday and Wood River, 39-27, on Saturday.
Catherine Deterding led the way with 11 points against Father McGivney. Mary Wessel added seven points and seven steals.
Hannah Dengler led the way against Wood River with 13 points and eight steals. Ashlyn Wightman added six points, 14 rebounds and three blocks.
Gibault played at Dupo on Monday.
Valmeyer ended Cat Classic play with a record of 1-2, dropping games to Marissa on Thursday, 36-24, and Madison on Saturday, 54-37.
Blair Brady, Mackenzie Brown, McKenna Litteken and Bethany Brinkman each scored six points against Marissa.
The Pirates play Dec. 1 at Lebanon.
Dupo is 0-3 on the season following tourney play. The Tigers lost to Wood River last Wednesday and Father McGivney on Saturday.
Liz Touchette and Briana Leesman lead the Tigers in scoring at 4.7 points per game.
Dupo played at Madison on Tuesday following Monday's contest against Gibault.