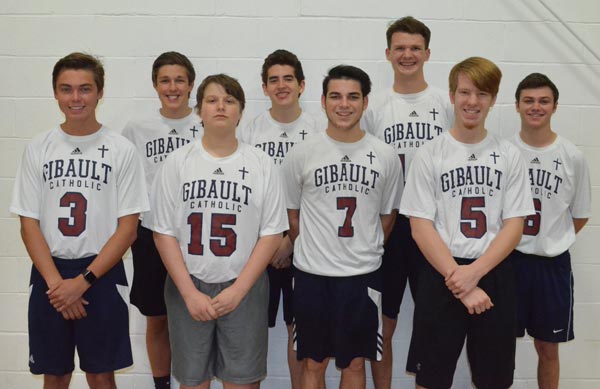 ---
"That's one small step for a man, one giant leap for mankind."
Famous astronaut Neil Armstrong uttered those words when he became the first person to walk on the moon.
The Gibault Catholic High School boys volleyball team is hoping to take "one giant leap" to the varsity level this season following two "small steps" in the junior varsity ranks in 2015 and 2016.
"We are all very excited to get it started," Gibault head coach Heather Lazarides said.
The Hawks return a solid group of juniors and seniors who have played the JV schedule together the past two seasons.
Junior setter Aaron Grohmann returns to guide the offense. He averaged nearly seven assists per set a season ago.
"Grohmann has been training hard to figure out how to best work our offense," Lazarides said.
Senior outside hitter Joey Green enjoyed a fine junior season and played club volleyball during the offseason to enhance his game. He recorded 72 kills, 20 aces, 148 digs and had a team-high 92 serve-receive percentage last season.
"(He) is looking very sharp with ball control," Lazarides said.
The coach also expressed excitement about the middle of her squad, seniors Andrew Durrer and Al Perez.
"Both are great blockers and have been working on faster transitions for a quicker offense," she said.
Durrer had 23 blocks and 62 kills last season.
Lazarides is keeping expectations simple this inaugural varsity season as the Hawks set out to explore the new frontier that is varsity boys volleyball.
"One of my goals for the season is to just surprise some big schools and to get some upsets," Lazarides said. "We are eager to play our first match. I couldn't have asked for a harder working bunch of guys."