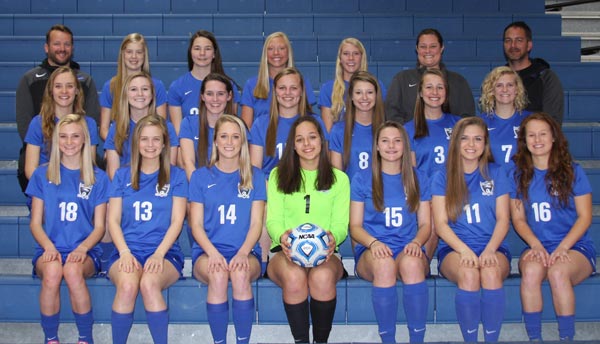 ---
The Columbia High School girls soccer team enters the 2017 season with loads of talent and high expectations.
"If we stay healthy and stay focused, we will be difficult to beat," Columbia head coach Jamey Bridges said. "Our opponent is not who we fear this season. It's us."
The Eagles feature six seniors on this year's squad, five of which start. These seniors have had their past three seasons ended in penalty kick fashion in the playoffs, Bridges said, and are motivated to change their fortune in 2017.
"Our experience is key," Bridges said. "They are hungry and excited."
Seniors Blair Wittenbrink and Madelyne Juenger lead the way. Wittenbrink, who scored 16 goals with six assists last season, is named on Prep Soccer Report's 2017 Top 40
Watch List for forwards in Illinois. Juenger scored seven goals with 10 assists last season.
Sophomore Rylee Iorio steps into the starting goaltender position and has looked good early on. Fellow sophomore Chloe Graff returns after bursting onto the scene last season with 11 goals.
Two more sophomores, Fae Harrell and Sophia Bonaldi, lead what Bridges says is a formidable Columbia defense.
A key addition to this year's squad is sophomore Kennedy Jones, who transferred to Columbia after one year at Ursuline Academy in St. Louis.
"She's speedy and talented," Bridges said.
In fact, Jones recorded a hat trick in her first game with the Eagles, which was a 6-0 win over rival Gibault last Monday night.
Columbia added regular season games against Mater Dei and Marquette this season. The Eagles have faced both in the posteseason over the years, so these games should serve as a good barometer for this year's playoffs.
In fact, Marquette edged the Eagles in the sectional last season in penalty kicks.
Columbia is off to a 2-1 start to the season, having posted wins over Gibault and O'Fallon  with a 2-1 loss to Alton sandwiched in between.
Jones leads the team in scoring with three goals and two assists. Reagan Mauch has two goals and two assists. Wittenbrink and Graff have also scored two goals apiece in the early going.