Friday evening structure fire in Dupo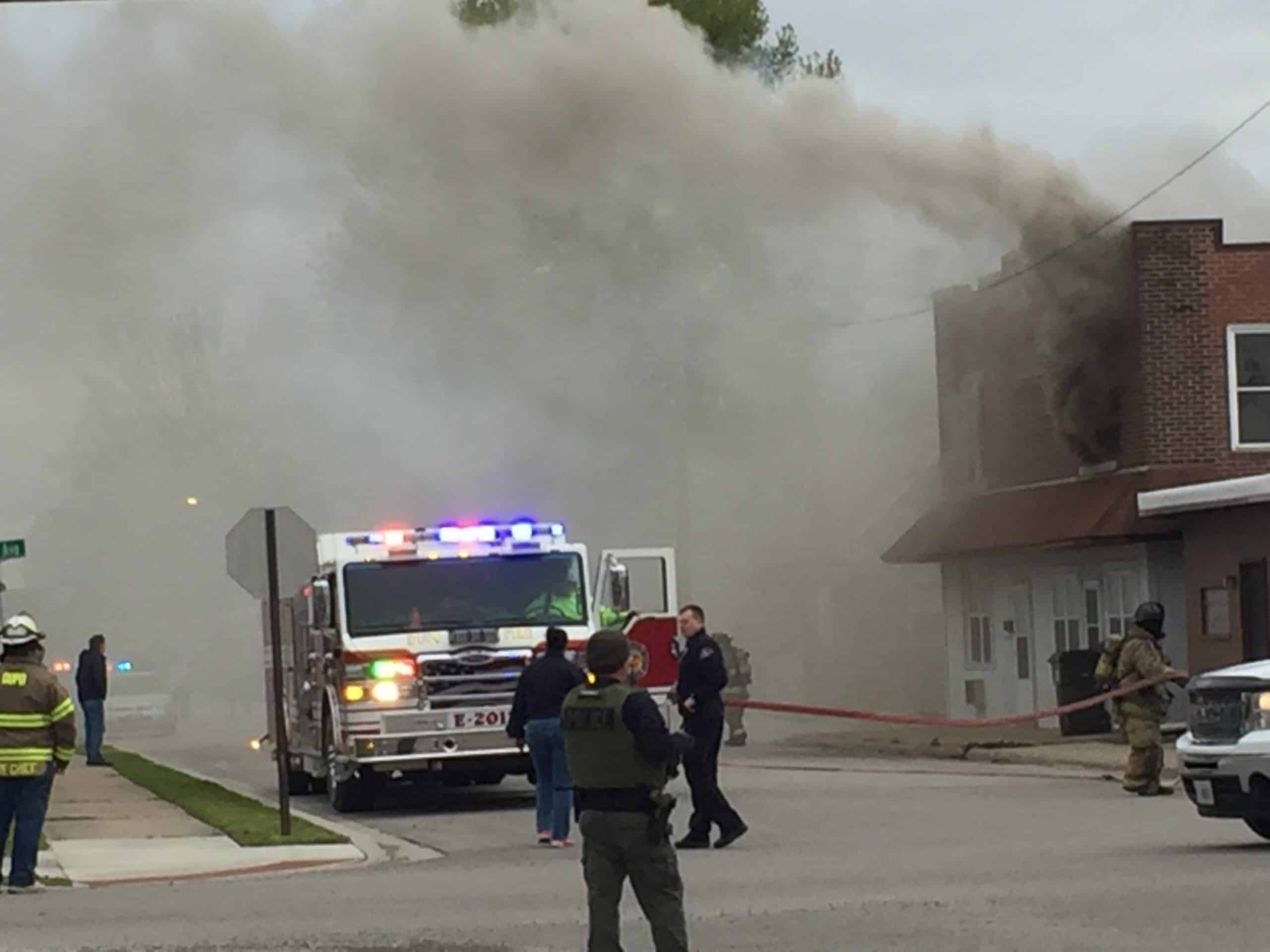 The Dupo Fire Department received assistance from Cahokia, Camp Jackson, Columbia and Prairie du Pont firefighters in responding to a fire inside a former business that is now a rental property in the 100 block of North 2nd Street at Emma Avenue in Dupo about 6 p.m. Friday.
Heavy fire and smoke were showing from the structure upon firefighter arrival.
The Illinois State Fire Marshal was called to investigate the fire, which heavily damaged the former Schmidt's Bakery building which has since been modified into a multi-unit apartment complex with large storage areas in the rear of the structure.
Dupo Fire Department Capt. Monte Miller explained when crews first made entry they were met with heavy fire conditions.
"The entry door opens to a flight of stairs going to the second floor where heavy fire was located in a bedroom," Miller said. "The fire had been burning long enough in the stairwell to comprise the wooden stairs and they were burning through in spots making it dangerous to get to the upper bedrooms."
Miller added that once firefighters made it up the stairs they found heavy fire in a bedroom and one window in the room had already shattered due to heat.
"They got the fire knocked down and then ventilated the upper floor by taking a window on the side of the building facing Second Street," Miller said. "Columbia also put up their ladder truck and vented the roof."
In addition to the working fire, crews outside worked to force doors of the other apartment units to check for extension and any other residents still inside.
The same was done in the rear of the building to open storage areas.
Extensive overhaul was also required throughout the building and several areas of fire, including the basement, were extinguished as well.
"This was an old building with a lot of added construction over the years," Miller explained. "The efforts by all of the firefighters led to this being a successful call. Although there is extensive damage, there were no injuries to residents or firefighters."