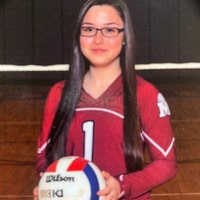 A 16-year-old Red Bud High School student died in a crash involving a car and a train early Friday evening in Prairie du Rocher.
The Prairie du Rocher Fire Department, Monroe County Sheriff's Department, Ruma police, MedStar ambulance and a medical helicopter responded to the area of Duclos and Berger streets in Prairie du Rocher about 5:30 p.m. Friday.
A preliminary report from Illinois State Police states that the 16-year-old female driver of the car was pronounced dead at the scene as a result of the accident.
The crash victim was later identified as RBHS junior Lillian Vandeford of Prairie du Rocher. She was a member of the school's volleyball team.
The police report states that Vandeford's car was stopped at a railroad crossing where lights and crossing gates were active. After yielding to a northbound train, Vandeford drove around the crossing gates and was struck in the passenger side of her vehicle by a southbound train traveling on a separate set of tracks, police said.
The train crew refused medical treatment at the scene.
No further information about the crash is being released at this time.
Grief counselors were available Sunday afternoon at Red Bud High School to meet with students and other members of the community, and increased staffing was made available this week to assist students in coping with their loss.
"A death such as this will have a significant impact on our entire school community," Red Bud Schools Superintendent Jonathan Tallman issued in a statement. "We expect a range of reactions to this loss from our students, parents, members of our staff, and members of our school community. Some of these reactions may be mild, while others may be more intense."
Visitation for Vandeford is set for 4-8 p.m. Friday at Pechacek Funeral Home in Red Bud. Funeral services will take place 11 a.m. Saturday at Red Bud High School.
To read Lilly's obituary, click here.
A GoFundMe was set up by friends of Vandeford to help raise funds for funeral expenses. To date, $19,000 has been donated.
"Lilly lit up everyone's lives that she touched," the GoFundMe page states. "She was always smiling and had a very positive outlook on life. She will be missed greatly, as she had a positive impact on many peoples' lives."
To donate, click here.