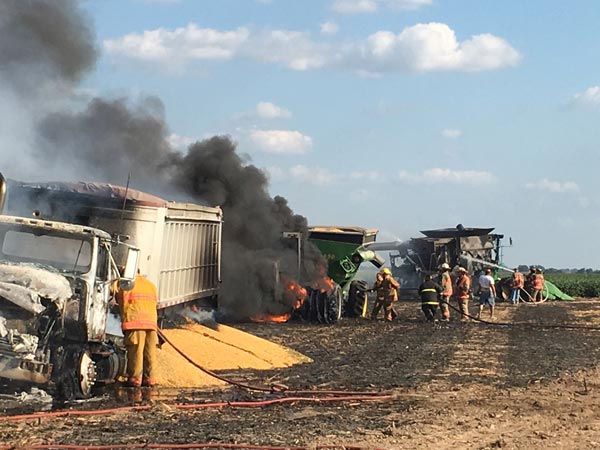 ---
The Maeystown, Valmeyer, Waterloo and Prairie du Rocher fire departments battled a farm equipment fire in the area of 2800 Maeystown Road Wednesday afternoon near Maeystown.
Maeystown fire responded at about 3:40 p.m. and requested mutual aid. A four-wheel farm tractor, tractor-trailer and combine were fully engulfed in a field, and additional manpower as well as pumper trucks, tanker trucks and brush trucks that can drive off-road and into fields were requested from the departments providing mutual aid.
The fire began as a fuel fire on the farm of Gary Leber. Leber, who called 911, was unloading the grain in the grain cart attached to his tractor when he saw the combine on fire in his rear-view mirror, Maeystown fire chief Lynden Prange said.
"We believe it was an electrical problem in the combine but we're not 100 percent," Prange said of the cause. "(Leber) got into the combine and tried to drive it away from the rest of the equipment, but with the wind and everything, it spread too quickly and he had to escape the combine so he didn't catch on fire."
As the four area fire departments worked diligently for two-and-a-half hours — Maeystown remained on scene for three-and-a-half hours — to keep the flames from further spreading, Prange said a fuel tank ruptured on the four-wheel tractor.
"It was constantly spraying diesel fuel on the fire and we had to keep going back and spraying water on the same area," he said.
Both the grain cart attached to the tractor and the corn in the four-wheel tractor were saved. Prange said the combine, tractor, four-wheel tractor and the grain in the combine and tractor-trailer were a total loss.
He estimated the damages would be assessed at more than $700,000, though that will be determined by the farmer and his insurance.
For a short video of firefighters working to keep the four-wheel tractor extinguished and the corn it contained from igniting in the dry, hot weather, click here.