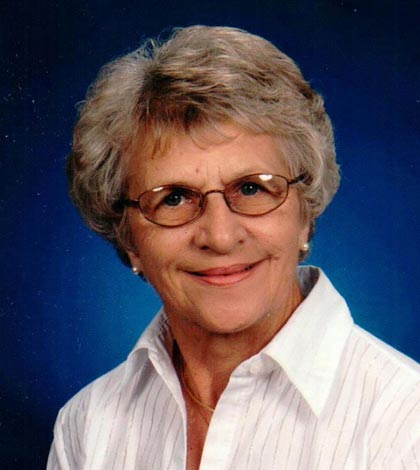 Evelyn Louise Sondag, nee Vogt, 85, of Waterloo, formerly of Valmeyer, died Aug. 10, 2017, in St. Louis.
She was born Nov. 16, 1931, in Waterloo, daughter of the late Louis P. and Emma Vogt (nee Hauptfleisch).
Evelyn worked as a bookkeeper for Myrick Feed Company for more than 25 years.
She lived most of her life on the family farm in rural Valmeyer.
She attended St. Mary's Catholic Church in Valmeyer and was a member of the St. Ann Alter Sodality. She also was a member of the local Home and Community Education Extension unit and worked with various charities.
As a 40 year ovarian cancer survivor, she cherished the time spent with her family and grandchildren. Although she kept alive numerous family traditions, one of her favorite was having brunch with the entire family every Sunday.
In her final years, she suffered from dementia, but always kept her sweet personality and positive attitude.
She is survived by her husband Joseph Sondag; children JoLynn (Warren) Winer, Susan Dillenberger, Angela (Gary) Siburt, Julie Muertz, and Karen (Scott) Limestall; grandchildren Adam (Laura) Winer, Lauren (Patrick) Cann, Chad (Katie) Dillenberger, Tracy Moore, Timothy (Dawn Heusohn) Brown, Jason (Courtney) Siburt, Cole (Angie) Siburt, Neil Siburt, Alex Muertz, Emily Muertz, Evan Muertz, Joel Limestall, and Bailey Limestall; 10 great-grandchildren; and sisters-in-law Marjorie May and Pauline Sondag; along with nieces, nephews and cousins.
In addition to her parents, she was preceded in death by her brother Paul (Evelyn) Vogt, sister Leone (Eugene) Jung, sister-in-law Helen Sondag, brothers-in-law Theodore Sondag, Glennon (Caryl) Sondag and James May, and son-in-law James Dillenberger.
Visitation was Aug. 13-14, Quernheim Funeral Home, Waterloo.
A funeral Mass was celebrated Aug. 14, at St. Mary's Catholic Church, Valmeyer, Father Felix Chukwuma officiating.
Interment followed at Ss. Peter & Paul Cemetery, Waterloo.
As an expression of sympathy the family prefers memorial contributions to St. Mary's Catholic Church, Valmeyer.