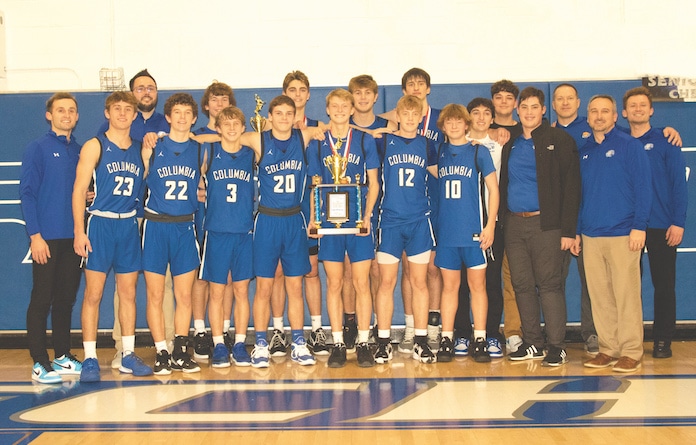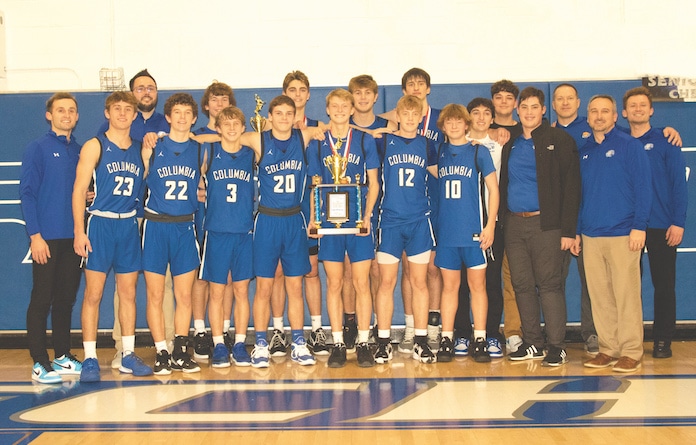 The Columbia High School boys basketball team captured the Freeburg-Columbia Holiday Tournament championship on Thursday night, 60-55 over Freeburg at Freeburg High School.
The Eagles (13-2) also won the tourney last year, led by MVP Dylan Murphy.
Behind another MVP performance from Murphy, Columbia won all four games of this year's tourney.
The Eagles trailed in the tourney final to Freeburg on Thursday, 21-14 after the first quarter and 31-26 at halftime, but willed its way to victory.
The game was close until Columbia's defense created some turnovers en route to a 19-0 run.
Sam Donald, a talented 6-foot-8 sophomore, poured in 21 points, grabbed five rebounds and dished out five assists for Columbia. Murphy scored 20 points.
Last Wednesday, Columbia advanced to the tourney final with a 62-36 win over Civic Memorial. Jack Steckler and Brady Hemminghaus led a balanced Eagles offense with 15 points each, followed by Murphy with 13 points and Donald with 10.
Last Tuesday, Columbia trailed 12-7 after the first quarter to rival Waterloo and was down 21-19 at halftime before taking control late. The Eagles outscored the Bulldogs 21-11 in the fourth quarter for a 52-41 victory.
Waterloo committed 23 turnovers to just six for Columbia.
Steckler had 16 points and five steals. Murphy added 15 points.
For Waterloo, Wyatt Fink led the way with 17 points and nine rebounds. Alex Stell, a 6-foot-9 sophomore, added eight points and 12 rebounds.
The Eagles opened its tourney schedule with a 65-34 win early last Tuesday over Nelson County, Ky. Columbia led 18-6 after the first quarter and 42-15 at halftime.
Murphy led the way with 20 points. Donald added 14 points and 12 rebounds. Steckler scored 13 points.
Columbia and Freeburg will have a rematch of the tourney final this Friday in a Cahokia Conference clash, again at Freeburg.
Murphy, who has committed to playing hoops at St. Leo University in Florida upon his graduation, is averaging 20 points per game this season.
Gibault (11-3) downed Civic Memorial in the tourney's third place game on Thursday, 70-55. The Hawks trailed 14-13 after one quarter but took charge from there.
Gibault won the turnover battle, 23-7.
Kameron Hanvey and Gavin Kesler each finished with 21 points and five steals for Gibault. Kaden Augustine added 15 points.
Last Wednesday, Gibault lost a 55-52 heartbreaker to Freeburg. The Hawks led 15-10 after the first quarter and 34-28 at halftime, but the Midgets went on a 13-2 run in the third quarter to turn the game around.
Kaden Augustine scored 19 points and Kesler added 18 points and 11 rebounds.
Earlier on Wednesday, Gibault posted a 55-47 win over Piasa Southwestern. Kesler and Owen Mechler poured in 13 points each and Kanen Augustine contributed 10 points, five rebounds and six steals.
The Hawks opened tourney play last Tuesday with an impressive 62-51 win over Marquette. Gibault got out fast from the gate, leading 18-7 after the first quarter.
Kaden Augustine scored 22 points and grabbed seven rebounds. Kesler added 17 points and Kanen Augustine contributed 13 points.
Gibault hosts Steeleville this Friday and Civic Memorial on Saturday.
Waterloo (4-9) salvaged two wins in this year's tourney to take fifth place.
On Thursday, the Bulldogs won 63-34 over Piasa Southwestern. Stell, who was selected to the all-tourney team, turned in another strong overall game.
Last Wednesday, Waterloo won 68-56 over Nelson County. Stell scored 28 points, grabbed eight rebounds and also blocked five shots. Caleb Yochum added 21 points.
Last Tuesday, the 'Dogs dropped a 47-36 game to Mississippi Valley Conference foe Civic Memorial.
Fink scored 13 points and Stell added 11 points and 13 rebounds.
Waterloo hosts Highland in an MVC clash this Friday night before hosting Mt. Vernon on Saturday and Steeleville on Tuesday.
Valmeyer (3-7) hosted Father McGivney on Tuesday and will play Friday at Lebanon.
Dupo (2-6) hosted O'Fallon First Baptist on Tuesday and plays this coming Tuesday at Carlyle.