Another tourney win for Eagles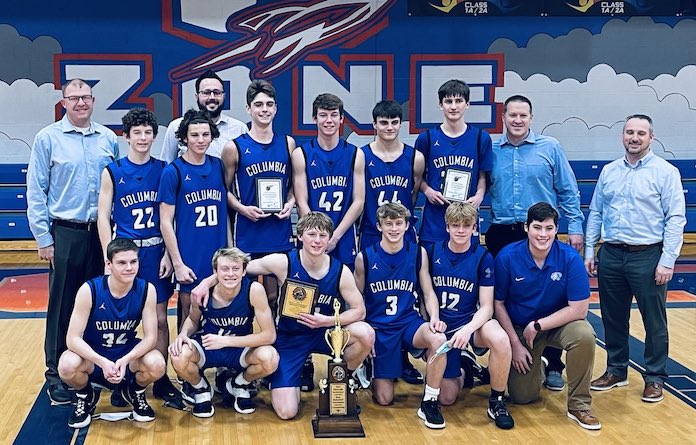 The Columbia High School boys basketball team won its second tournament title of the season this weekend at Okawville.
The Eagles downed Marquette on Saturday night, 37-33, in the championship game of the Okawville Invitational Tournament. Columbia earlier defeated Marquette to win the Columbia-Freeburg Holiday Tournament.
A 14-5 second quarter run was key in Saturday's victory. Dylan Murphy and Glenn Powers led the Eagles with 12 points each on the night.
"Our execution at both ends of the floor was simply outstanding," Columbia head coach Mark Sandstrom said of the title game win. "Our young team has really made big strides and plays well together. "
On Friday night, Columbia faced Monroe County rival Gibault in the tourney. The Eagles emerged victorious, 37-32. The game was tied 10-10 after the first quarter.
Sam Donald led the Eagles with 14 points, with Murphy adding 10 points. Dominic Voegele made six steals.
Kameron Hanvey led the Hawks with 10 points.
Gibault bounced back from Friday's loss to defeat Highland in the tourney's third place game on Saturday, 61-46. Kaden Augustine scored 23 points for the Hawks and Hanvey added 16 points.
Hanvey and Augustine were both selected to the all-tournament team, joining Columbia's Murphy and Donald. Powers was chosen as Most Valuable Defender of the tourney.
Columbia opened tourney play last Tuesday with an easy win over Okawville, 59-29. Murphy, who leads the Eagles in scoring this season at 15.4 points per game, netted 17 points and Donald added 13 points.
Gibault opened tourney play with a 38-36 victory over Wesclin last Tuesday. Augustine, who leads the team in scoring at 14.2 points per game this season, again led the way with 11 points.
Gibault (15-8) played Tuesday at Freeburg, falling 51-45, and will host Red Bud this Saturday night. 
Columbia (17-6) tangled with another Monroe County rival, Waterloo, on Tuesday night. The Eagles host Salem this Friday night and Civic Memorial on Tuesday.
Waterloo (13-9) closed out Sparta Mid-Winter Classic play with a 45-42 loss to Steeleville on Saturday night. The Bulldogs previously defeated Steeleville by the same 45-42 score on Jan. 12.
The 'Dogs trailed 9-2 after one quarter but were down just 21-19 at halftime.
On Friday, Waterloo won 48-31 over Trico. Alex Stell scored 15 points and Logan Calvert scored 14 points for the Bulldogs in the victory.
On Thursday, Waterloo suffered a 48-47 loss to eventual tourney champion Murphysboro.
The Bulldogs opened tourney play last Wednesday with a 43-41 victory over Red Bud and former head coach Dane Walter.
Calvert, who averages 12 points per game this season, was named to the all-tourney team.
Waterloo hosts Mascoutah on Friday, Jerseyville on Monday and Granite City on Tuesday.
Valmeyer (2-17) dropped a 65-46 contest at New Athens on Friday. Jordan McSchooler led the Pirates with 16 points and 11 rebounds.
The Pirates play Wednesday at Father McGivney, host Marissa on Friday and host Gibault this coming Tuesday.
McSchooler, Harry Miller and Vincent Oggero are all averaging at or near nine points per game this season for Valmeyer.
Dupo (3-11) has been idle since a Jan. 14 loss at Marissa.
The Tigers played Tuesday against Red Bud, host Lebanon on Friday and host KIPP St. Louis on Monday.
Chase Mantz leads Dupo in scoring this season at 11.5 points per game.