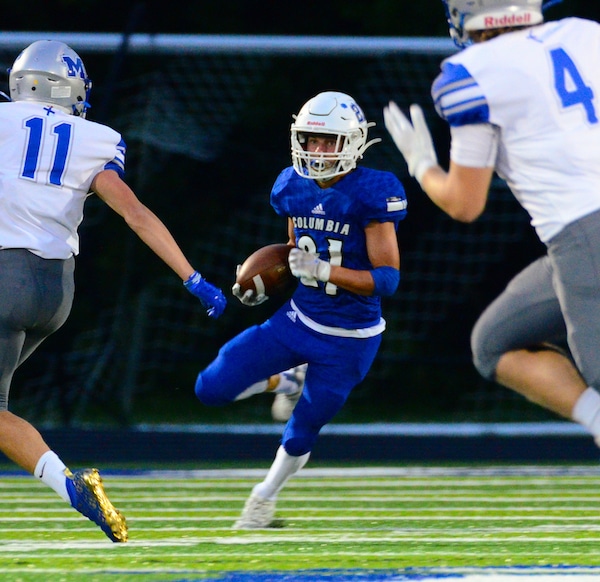 With a potential playoff berth at stake, the Columbia High School football team used big plays to come back and win Friday night at Jerseyville.
The Eagles (5-4) won 47-34 despite being down 20-13 at halftime.
Columbia received huge games once again from offensive stars Kyle McConachie and Dominic Voegele.
McConachie, a senior running back, finished with 186 yards rushing, 19 yards receiving and 145 return yards and four total touchdowns.
Voegele, a junior quarterback, ran for two scores, threw for two more and also led the defense with 15 tackles.
McConachie and Voegele combined for 306 yards rushing on the night.
Voegele started the scoring with a 69-yard TD run early in the first quarter. McConachie added a 12-yard TD reception late in the first quarter to put the Eagles up 13-7.
Jerseyville controlled the second quarter, however, scoring twice to go up by seven at the half.
McConachie sparked a second half points explosion for Columbia, taking the opening kickoff 86 yards in for a score. He then rushed for a 75-yard TD midway through the third quarter.
A 40-yard TD pass from Voegele to Colin Cygan started the fourth quarter, which was followed by Voegele 44-yard TD run and a McConachie eight-yard TD run.
"We woke up and started playing with a sense of urgency," Columbia head football coach Scott Horner said of his team's second half scoring surge. "We were very lethargic and complacent in the first half."
McConachie has 914 yards rushing and 198 yards receiving this season with 13 total TDs. McConachie also has 585 return yards and two TDs.
Voegele has 842 yards passing with nine TDs and 544 rushing yards with eight TDs.
Columbia's defense recorded two interceptions and three sacks on the night.
For the season, Jay Mistler and Carter Hicks lead the Eagles defense with four sacks apiece. McConachie has three interceptions.
The Eagles, who didn't get a playoff game this spring due to COVID despite going 5-1, learned Saturday night that they are the No. 14 seed in the IHSA Class 4A state playoffs and will play at No. 3 Springfield Sacred Heart-Griffin this Friday night.
"We are excited to be playing in Week 10 but know we certainly have a tall task," Horner said. "Sacred Heart is a quality team with lots of experience. But I am certain that our guys will give everything they have on Friday."
Sacred Heart-Griffin is 8-1 this season, with its only loss coming to perennial football powerhouse Rochester, 45-41, on Sept. 10.
Tigers end with loss
The Dupo football season ended at home Friday night with a 47-0 loss at the hands of Nokomis.
The Tigers rushed for 204 yards but threw for only 18 yards on the night.
Dupo running back Logan Stevens, a junior, rushed for 73 yards to lead the Tigers, who finished with a 3-5 record.
For the season Stevens rushed for 999 yards to go along with 303 yards receiving and 10 total touchdowns.