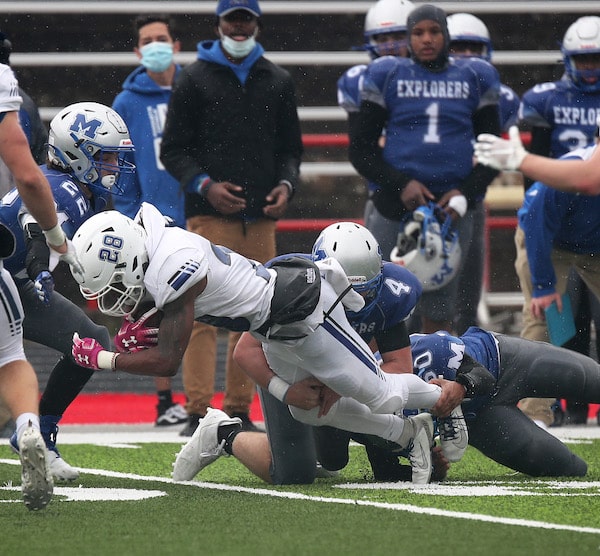 The Columbia High School football team capped off a 5-1 season with a 35-14 victory over Marquette at Alton early Saturday afternoon.
In a rainy affair, the Eagles capitalized on five turnovers from its defense using a balanced offensive attack.
Columbia's defense nabbed four interceptions and recovered a fumble.
The scoring started with – who else? – senior speedster Londyn Little. He caught a pass from quarterback Dominic Voegele and turned it into a 21-yard touchdown at 5:23 of the first quarter.
Following a Marquette score, Eagles running back Kyle McConachie rushed for a three-yard TD to end the first quarter.
Voegele scored on a 17-yard run late in the second quarter, and after getting the ball right back, Voegele connected on a 43-yard TD pass to Oliver Schrader to put the Eagles up 28-7 at halftime.
Little put an exclamation point on the day with a two-yard TD pass to Voegele early in the third quarter.
That marked the fifth different method Little had recorded a TD this season – the others being by reception, rush, interception return and kickoff return. He's also scored via punt return in his CHS career. Little has committed to playing football at the University of Wisconsin-Oshkosh upon graduation this spring.
McConachie led the Eagles with 70 yards rushing.
Voegele had 121 yards passing and 66 yards rushing.
One key play in the contest was a 31-yard pass from Adam Wibbenmeyer to Bryce Hildebrand on a fourth down and long fake punt play that led to a touchdown.
"We actually started pretty quickly for the first time all season and put points on the board early after an Alton Marquette turnover," Columbia head coach Scott Horner said. "Our defense kept them at bay all day and gave us great field position. We were able to connect on some gadget plays and take a 28-7 lead into the half."
Horner said the group of 16 seniors were a large part of the team's success this spring.
"Overall, our season was a huge success. That is a credit to our seniors and the leadership they provided," Horner said. "With a short amount of time to prepare and the uncertainty that surrounded the start of the season, our kids responded well and worked every day to get better. It is always tough to see your seniors play their last game, but they were able to go out with a win."
Tigers end with win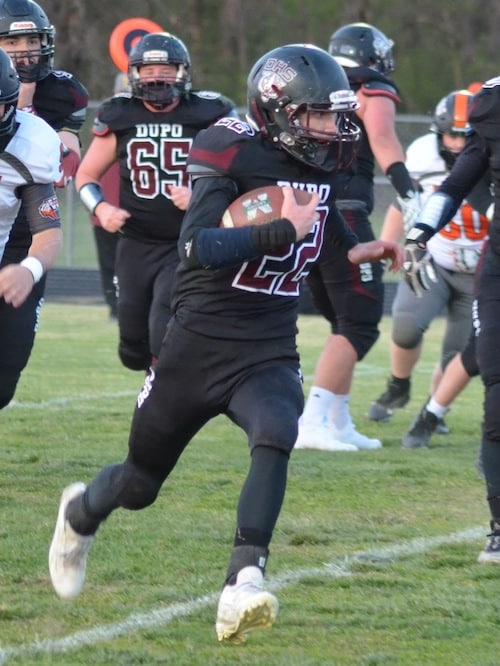 The Dupo High School football team finished with a .500 record at 3-3 with a 59-38 victory at home over Carlyle on Friday night.
The Tigers rushed for 463 yards total, led by senior Camden Biggs with 307 yards on 36 carries. He scored five TDs.
Logan Stevens, a sophomore, added 153 yards on the ground.
Friday's win avenged a loss at Carlyle in the season opener.
"We were very excited to have another shot at Carlyle," Dupo head coach Joe Day said. "In week one we had about a third of our team quarantined due to COVID restrictions, so we had a feeling we would be able to run the football once everyone was cleared. Carlyle plays very hard and is extremely well-coached, so we knew we had to play our best football to win. We were very physical on offense and did enough defensively to finish the job."
This is the first time since 2012 that Dupo's football program has finished at or above .500.
"We were happy with the season and excited for the win on senior night but our kids understand every day is a process," Day assessed. "Our kids are really excited to keep moving forward, as we have the fast turnaround to get ready for the fall."
COVID dooms 'Dogs
The Waterloo High School football season ended one week earlier than planned with a record of 4-1.
The school announced Thursday that Friday's scheduled game at Civic Memorial would be canceled "due to a COVID-related issue," Waterloo Athletic Director Brian Unger disclosed.
The issue was on Waterloo's end, with several players placed on quarantine.
The 2021 season was limited to six weeks and moved to the spring due to state restrictions in place as part of the pandemic.