Eagles keep flying to the hoop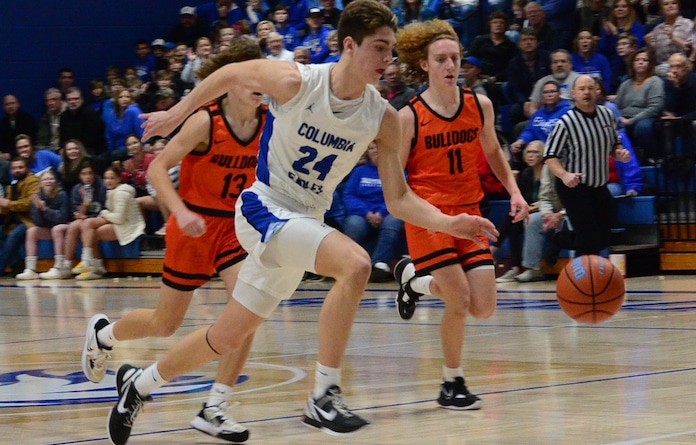 The Columbia High School boys basketball team refuses to lose, recording two more wins to improve to 24-2. 
The Eagles have won 16 straight entering a key hoops showdown Friday against Gibault.
On Friday, Columbia blasted Salem to the tune of 72-37. Dylan Murphy scored 24 points (4-for-4 from three-point range, 6-for-6 from the free throw line) and Jack Steckler scored 21 for the Eagles.
Sam Donald added 12 points, seven rebounds and eight assists.
Last Tuesday, Columbia won the annual "Pack the Place" rivalry game at home over Waterloo 63-45.
The Bulldogs actually led 13-11 after the first quarter, but the Eagles really got going after that. Murphy scored 17 – including his 1,000th career varsity point. Donald added 15 points, 11 rebounds and six assists.
Murphy is averaging 19 points per game this season – including nearly 45 percent shooting from three-point range.
Donald is averaging 13 points and seven rebounds per game. Steckler is averaging 12.6 points per game.
Columbia hosted Civic Memorial on Tuesday, winning 73-49. Steckler scored 24 points. Brody Landgraf added 20 points and four blocks. Donald had 10 points, 11 rebounds and seven assists.
The Eagles host Gibault on Friday before playing host to Cahokia Conference rival Breese Central on Tuesday. 
Waterloo (6-19) was led by Wyatt Fink in last Tuesday's loss at Columbia. He scored 25 points and grabbed eight rebounds. Fink, a 6-foot-4 senior, is averaging nearly 12 points per game this season.
Following the loss at Columbia, the Bulldogs lost Friday night at Mascoutah, 49-41. Waterloo shot below 30 percent from the floor as a team. 
Alex Stell led the 'Dogs with 15 points and 10 rebounds. Fink added 13 points and eight rebounds.
Waterloo played Tuesday night at Granite City, falling 56-46. Stell had 20 points and 12 rebounds.
Waterloo plays Friday at Civic Memorial and hosts Edwardsville on Saturday. 
Gibault (20-5) lost at Red Bud on Saturday, 55-44. The Musketeers outrebounded the Hawks, 22-14. 
Red Bud is 12-4 over its past 16 games.
Gavin Kesler led the way for Gibault with 14 points and five rebounds.
Gibault senior Kameron Hanvey reached a milestone, recording his 1,000th career point in the contest.
Kaden Augustine is averaging 16 points per game to lead the Hawks this season, followed by Kesler at 15.5 points per game.
Gibault hosted Valmeyer on Tuesday, winning 61-28. Augustine and Steckler each scored 15 to lead the Hawks.
Gibault plays Friday at Columbia and hosts Okawville on Saturday. 
Valmeyer (5-15) won 69-63 over Maryville Christian on Thursday. The Pirates led 16-8 after the first quarter and held on late.
Harry Miller scored 19 points, Landon Roy added 17, Aiden Crossin scored 15 and Elijah Miller scored 14 points for the Pirates.
On Friday, Valmeyer lost 55-33 to Marissa. Roy led the Pirates with 12 points, all coming via three-pointers.
Harry Miller leads Valmeyer in scoring this season at 22 points per game.
Valmeyer plays Wednesday at St. Pius, Friday at Steeleville and Monday at Hancock.
Dupo (3-10) lost 72-19 to Red Bud last Tuesday. Trey Chadduck scored seven points to lead the Tigers.
Dupo hosts Maryville Christian on Thursday and New Athens on Friday, before which will be a special ceremony celebrating 100 years of boys hoops at the school.