Bulldogs slide past Eagles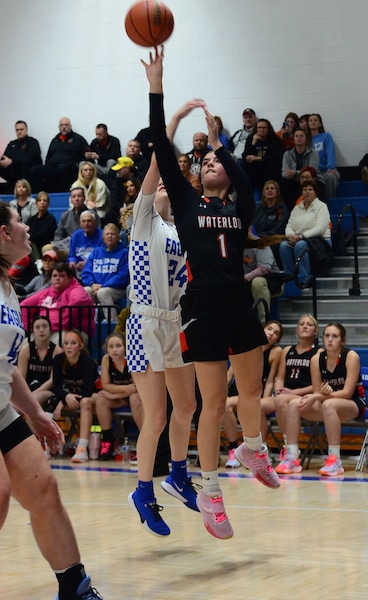 Last Tuesday's rivalry high school hoops clashes between Waterloo and Columbia was titled "Pack the Place," with Bulldogs and Eagles fans doing just that at Columbia High School.
The Waterloo and Columbia girls hoopsters played first, and the Bulldogs escaped with a 47-45 victory.
The game was tied at 13-13 after one quarter, but the Eagles eventually built a nine-point lead midway through the third quarter.
Waterloo senior Sam Lindhorst made some key shots late to give her team the narrow victory. She finished with 11 points and eight steals.
Norah Gum scored 17 points and grabbed 16 rebounds to lead the Bulldogs.
For Columbia, Karsen Jany scored 12 points and grabbed 10 rebounds and Jordan Holten scored 14 points.
It was the second time Waterloo slipped past Columbia. The Bulldogs won 49-46 at Columbia on Nov. 16.
Waterloo (15-10) followed up last Tuesday's win with a 68-63 loss in overtime at Mascoutah.
The Bulldogs led 50-43 after three quarters, but the Indians rallied to tie it at the end of regulation.
Waterloo committed 20 turnovers in the loss.
Gum again led the way with 24 points and 15 rebounds before fouling out. Lindhorst added 16 points, five rebounds and seven assists.
Gum is averaging 20 points and nearly 10 rebounds per game this season.
Waterloo played at Civic Memorial on Tuesday and will host Freeburg on Monday.
Columbia (17-9) won 62-34 over Salem on Thursday, which was senior night. The Eagles led 19-9 after the first quarter.
Jany and Emily Holmes, both seniors, each scored 12 points to lead Columbia. Sam Schmuke added 10 points, six rebounds, four assists and five steals.
On Monday, Columbia dropped a key Cahokia Conference showdown with Freeburg, 57-46. The Eagles trailed 22-6 after the first quarter and 36-14 at halftime before making a comeback.
Jany led the Eagles with 16 points. Columbia plays Thursday at Breese Central and hosts Triad on Monday.
Jany is averaging 17 points and more than seven rebounds per game this season.
Gibault (15-7) won 43-21 over Lebanon last Monday and posted a 50-31 victory Thursday over Bunker Hill.
The Hawks flew out fast in both wins, going up 16-3 and 18-4 after the first quarter, respectively, in these games.
Gibault plays Thursday at Maryville Christian and travels Monday to Dupo.
Dupo (10-10) won 54-28 over Lebanon on Thursday. T'yonna Burris and Kaylyn Woods each scored 11 points to lead the Tigers. Burris also grabbed 12 rebounds.
Dupo hosted Maryville Christian on Tuesday and hosts Roxana on Wednesday.
Valmeyer (5-14) dropped a 38-27 contest to Marissa on Thursday.
Brooke Miller scored 12 points, grabbed 11 rebounds and blocked five shots for the Pirates.
For the season, Miller is averaging 14.5 points, 8.4 rebounds and nearly three blocks per game.
Valmeyer hosts Steeleville this Thursday and will then play host to Hancock on Monday.