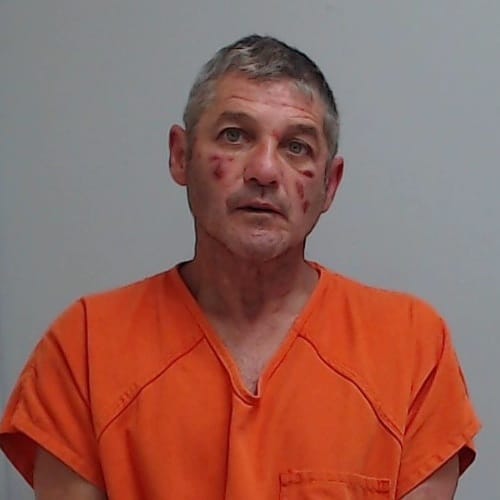 A man is in custody after he failed to pull over during a traffic stop attempt by the Monroe County Sheriff's Department on Route 3 south of Columbia about 2:15 p.m. Saturday, leading police on a brief pursuit before he was taken into custody at the mobile home park in the 500 block of South Main Street in Columbia.
The Columbia Police Department and Columbia EMS assisted in the incident.
The sheriff's department said Monday that deputies observed a vehicle traveling north on Route 3 that was swerving all over the roadway.  The deputies attempted to stop the vehicle for the violations but instead of stopping, the driver continued traveling north on South Main Street in Columbia. Deputies followed behind the vehicle as speeds continued at normal speeds. 
The vehicle then turned onto Centerville Road from South Main Street, passing another vehicle and committing several traffic violations –including disobeying stop signs – in an attempt to flee from deputies. The suspect vehicle at two different times slammed on the brakes in an attempt to have the deputies crash into his vehicle.
The suspect vehicle eventually came to a stop at the mobile home park, police said.
"Once stopped, the driver refused to obey orders by the deputies and locked himself inside the vehicle," a Monroe County Sheriff's Department news release states. "As the driver continued reaching for an unknown item in the vehicle, the deputies broke the driver's side window to remove the driver. Once the driver's door was opened, the driver struck a deputy with his fist. Deputies deployed a taser to gain control of the driver."
The driver, Jerry D. Edwards, 59, of Waterloo, was removed from his vehicle and taken into police custody. A glass pipe known to be used to smoke methamphetamine was located on the driver, police said.
Edwards was charged on Monday with aggravated fleeing and eluding, aggravated battery to a peace officer, resisting arrest, possession of drug paraphernalia and improper lane usage.
He remains in the Monroe County Jail with bond set at $50,000.
Edwards has been charged previously in Monroe County with possession of meth.