'Dogs end solid soccer season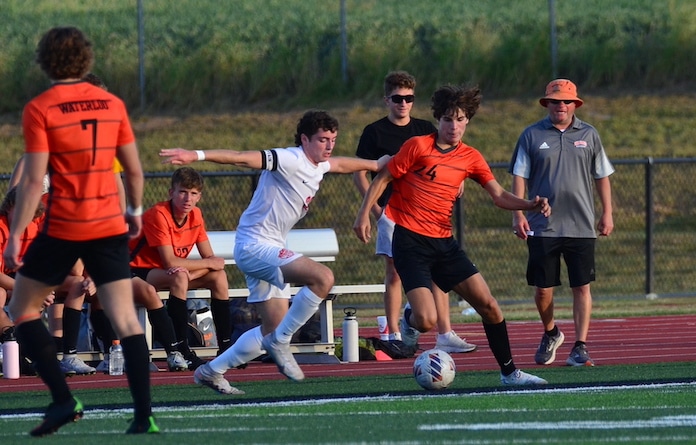 A successful 2023 campaign for the Waterloo High School boys soccer team ended last Tuesday night with a 3-1 loss to Althoff at the Class 2A Freeburg Sectional.
Waterloo actually led Althoff at the half, 1-0, only to see the Crusaders take command after halftime.
The Bulldogs finished with an overall record of 18-5 and another regional championship plaque for the school's trophy case.
After some time to think about the season as a whole, longtime Waterloo head coach Chad Holden responded with positive reflections on his 2023 squad.
"I thought overall we had a great season," Holden said. "We only lost to three teams all season long."
Waterloo had two one-goal losses to supersectional qualifier Triad, two close losses to Althoff and a one-goal loss to Class 1A sectional qualifier Marquette this fall.
"It was great seeing our seniors continue to get better throughout their four seasons with us, and they will all be missed," Holden added.
Seniors on this year's squad were Brenden Eschmann, Grant Eugea, Owen Francis, Ethan Gardner, Kyle Kern, Isaac Lohmann, Eli Schwehr, Ty Singleton and Drew Stafford.
"There are so many good teams in Class 2A, and we knew the competition would be very hard, but we competed in every game, and we felt we kept getting better and better as the season progressed," Holden assessed.
Looking ahead to 2024, the Bulldogs do have some key components to build around.
Those returning next fall include juniors Ty Kinzinger (15 goals, 12 assists) and Caeden Wille (15 goals, five assists), sophomore goalkeeper Parker LaCroix (17-5, 1.25 goals against average) and sophomore midfielder Trent Glaenzer (11 goals, five assists).