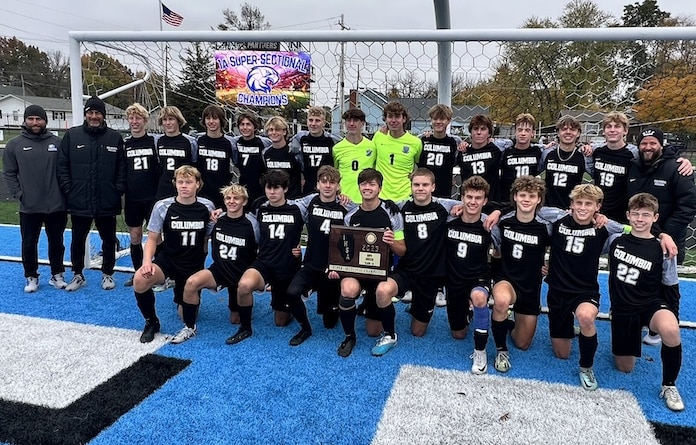 The Columbia High School boys soccer squad advanced to the IHSA Class 1A state tournament by virtue of a 1-0 victory over Williamsville at the Virden (North Mac) Supersectional on Saturday.
Micah James netted the only goal of the match for the Eagles, that coming 10 minutes into the match on an assist from Hayes van Breusegen. It was the first goal Williamsville had allowed all postseason.
"A quick throw from Elliot Nelson and a great flick by Hayes van Breusegen to Micah James was a huge moment that led to a goal early," Columbia head coach Jamey Bridges said.
Columbia's stifling defense took over from there, keeping Williamsville from sustaining much in the way of offensive pressure.
"Yes, our defense has been stellar," Bridges said. "Our speed of play defensively and up top has been key."
Columbia has 16 shutouts this season, which is just one shy of the school record of 17. The Eagles have allowed only one goal this entire postseason.
Columbia (17-3-4) will play Thursday night in the state tourney at Hoffman Estates against Normal University High School. The other two teams at state are Peoria Christian and Winnetka.
The Eagles are trying to win state in boys soccer for the first time since 2014. Columbia placed third at state in 2010.
The Eagles won 3-0 over Marquette in the Class 1A sectional final last Wednesday night at Althoff Catholic High School in Belleville to reach Saturday's supersectional.
Following a scoreless first half, Liam Bivins netted the first of his two goals on the night with a shot from 50-plus yards out. Also scoring for Columbia was van Breusegen.
Bivins also scored on a long shot during Columbia's sectional semifinal win over Gibault on Oct. 21.
For the season, van Breusegen leads the team in scoring with 21 goals and 10 assists.
Starring in goal is junior Brady Hemminghaus, who has a .061 goals against average and a .915 save percentage this fall. He's only allowed 12 goals on the season.
Columbia's defense is anchored by senior Kane Riebeling, who was recently named to the Illinois High School Soccer Coaches Association's All-State Team.
Among common opponents this season, Normal University lost 1-0 to Althoff on Sept. 30.
Columbia tied Althoff, 1-1, back on Sept. 11.