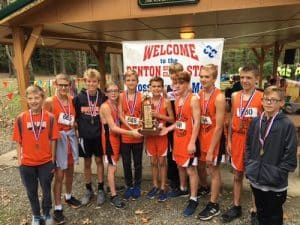 With regional competition set to begin this weekend, local high school cross country runners are pacing themselves for a strong finish to the season.
Waterloo's Schwartz siblings — Jake and Jenna — both finished first in the Mississippi Valley Conference Cross Country Championships at Principia on Thursday.
Jake Schwartz, a senior, won the boys race with a time of 15:37.22. Jenna Schwartz, a sophomore, won the girls race with a time of 17:59.16.
As a team, Waterloo placed second in both the boys and girls races. Eli Ward placed sixth (16:35.20), Adam Robson placed seventh (16:38.94) and Jackson McAlister placed 10th (16:45.57) for the Waterloo boys. Sydney Haddick placed eighth (19:42.52) for the Waterloo girls.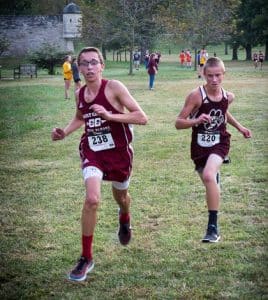 In the Cahokia Conference Meet held Saturday, Columbia's Josh Foster placed 10th in the boys race with a time of 17:13. Leading the Valmeyer boys was Ryan Brinkman in 28th place with a time of 18:50.
In the girls race, Dupo's Kailey Huesohn placed 13th with a time of 21:40, followed by Valmeyer's Willa Sauer in 14th place at 21:48. Columbia's Emma Groetecke placed 26th at 23:14.
In other local cross country action, runners from Valmeyer, Gibault, Dupo and Red Bud joined other area schools in the sixth annual Les Coureurs des Bois (Runners of the Woods) race last Tuesday at Fort de Chartres in Prairie du Rocher.
Varsity runners from nine high schools ran on a scenic, relatively flat grass course that is interrupted by four steep uphill and downhill stretches when runners ascended and descended the levee surrounding the fort.
In the boys race, Chase Headen of Red Bud finished first with a time of 17:25. Gibault's Elgin Scherff placed fourth with a time of 18 minutes.
In the girls race, Red Bud's Danielle London led local runners with a fifth place finish at 21:58.
This Saturday, the Valmeyer, Gibault and Red Bud boys and girls teams will run in the Class 1A Chester Regional. Columbia and Dupo will compete in the Class 1A Freeburg Regional.
Waterloo will compete in the Class 2A Triad Regional on Saturday.
At the junior high level, the Waterloo Junior High School boys team coached by Taylor Sebestik placed second at the SIJHSAA Class L state cross country meet at Benton on Saturday. Joe Schwartz placed sixth with a time of 10:34.9.