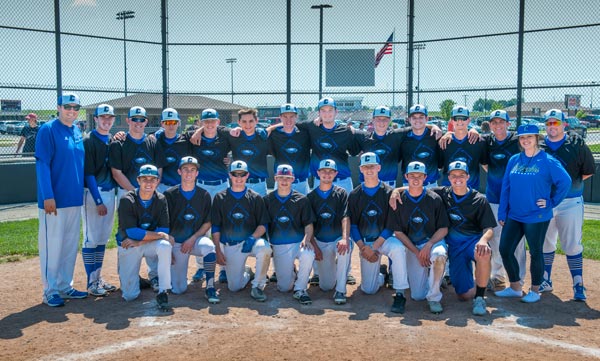 ---
Columbia had lost eight of nine games entering Saturday's Monroe County Baseball Tournament in Waterloo.
At the end of the day, the Eagles were county champs.
All four games were close affairs.
Columbia edged Gibault in a back-and-forth contest at SPPS Field, 7-6, before outlasting Waterloo in the title game at WHS, 6-5.
Both victories by the Eagles avenged earlier losses to their cross-county rivals.
"I was proud of the way we fought back in both games," Columbia head coach Neal O'Donnell said. "We went down late in each game and were able to come from behind. We've been struggling as of late and needed something to pick us up.  Hopefully, those victories against two teams who previously beat us can be something that we can build on moving forward."
Against Gibault, the Eagles built up a 4-1 lead early before falling behind 6-4. A three-run sixth inning proved to be the difference.
Drew Drabant went 3-for-4 with a triple and two RBIs to pace Columbia's offense. Sam Spivey went 1-for-2 with a double and two RBIs.
Mark Branz and Alex Stern collected two hits each for Gibault.
In the tourney title game, Columbia trailed 2-0 at Waterloo after five innings, but strung some hits together and capitalized on some miscues to plate six runs in the sixth inning en route to another one-run victory.
Alex VonBokel went 2-for-3 and Dylan Hildebrand went 1-for-3 with a double and three RBIs for the Eagles. Luke Watson earned the win on the mound.
Erik Kaiser smacked a three-run home run for the Bulldogs in the seventh inning to make the game close. Lucas Goodsell and Danny Tharp added two hits apiece for Waterloo.
The Bulldogs (22-8) and Eagles (19-10) have split two meetings this season, with Waterloo posting a 4-0 win at home over Columbia on Thursday. Seven different Bulldog pitchers combined to hold the Eagles to just two hits on the day.
Ben Maurer went 2-for-3 with two RBIs for Waterloo in the win.
The two teams will meet again in the Class 3A Columbia Regional to be played May 25 at 4:30 p.m.
Columbia followed up its county tourney win with a victory over Mascoutah at Busch Stadium on Monday.
Waterloo got back in the win column with a 6-3 victory over Jerseyville on Monday. Quinten Albrecht went 4-for-4 with a home run and two RBIs and Maurer struck out 11 on the mound.
In other games from Saturday's county tourney, Waterloo advanced to the title game by edging Valmeyer, 2-0. The game was scoreless into the sixth inning before a Kaiser double led to Waterloo's first run. A pinch runner stole third and the Valmeyer catcher's throw sailed into leftfield.
Goodsell went 3-for-3 with two doubles for Waterloo; Valmeyer was led by Drew Maus, who went 2-for-3.
In the third place game of the tourney, Gibault defeated Valmeyer, 5-2. The Pirates led 2-1 entering the seventh inning before the Hawks mounted a four-run rally to win the game.
Branz went 1-for-3 with two RBIs and also threw two scoreless innings for the mound victory. Michael Chism went 2-for-3 for Valmeyer.
The Pirates (22-9) open Class 1A regional play at home this week, with dreams of earning a second straight regional title for their treasure chest. Valmeyer will battle Lebanon on Wednesday for the right to play in Saturday's regional title game against either Mt. Olive or New Athens.
The Hawks (19-14) open Class 2A regional play Thursday at Red Bud against the host school. With a win, Gibault would face either Nashville or Sparta for the regional title on Saturday.
In other local baseball action, Dupo (6-17) ended its season with an 8-4 loss to Althoff in the Class 2A Althoff Regional on Monday.
The Tigers were led on offense this season by senior Austin Francis, who hit .429 with four home runs and 17 RBIs.