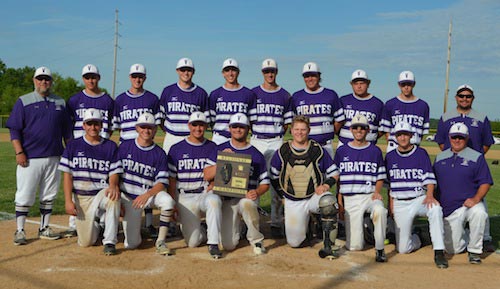 The Valmeyer High School baseball team has advanced to the sectional championship game for the second straight year and has its sights set on capturing the title this time around.
Last year, the Pirates dropped the sectional title game to Okawville.
On Wednesday night, Valmeyer (25-9) out-slugged Hardin Calhoun in the Class 1A Greenville College Sectional semifinal, 11-6. With the win, Valmeyer advances to the sectional final against Carrollton, which takes place 11 a.m. Saturday.
"It was like a boxing match early," Valmeyer head coach Greg Reinhardt said of Wednesday's contest. "They scored, then we scored."
The lead changed hands four times in the game, with Valmeyer finally pulling ahead comfortably thanks to a five-run sixth inning. Jake Krekel went 3-for-4 with a double and two RBIs. Tyler Kempfer added two hits, including a clutch double in the sixth inning. Cole Juelfs also had two hits.
Andrew Whipple earned the win in relief with three solid innings. Drew Maus pitched a scoreless seventh for the save after Hardin Calhoun loaded the bases with no outs.
Hardin Calhoun pitchers hit six Valmeyer batters in the game and the defense committed six errors on the night, offering plenty of opportunities for the Pirates to pounce.
Last season, Valmeyer ended a 45-year regional baseball title drought. The Pirates made it back-to-back regional championships on Monday.
Easton Wallace, a senior with more than 180 career varsity hits, went 3-for-4 with a home run, triple and five RBIs in Monday's 12-1 short-game win at home over Mt. Olive. His opposite field solo shot to right in the first inning fired up the Valmeyer faithful and set the course for victory. His two-run triple in the second inning broke the game open.
Krekel went 2-for-2 with two RBIs and three stolen bases. Juelfs added two hits and two RBIs. Freshman southpaw Philip Reinhardt threw five solid innings for the win.
"It's all about the kids and the quality of their parents," Greg Reinhardt said afterward. "Both have put in a lot of time to make the program successful."
Reinhardt credited the junior high baseball program's two straight Southern Illinois Junior High School Athletic Association titles in 2013 and 2014 as the key to breeding success at the high school level. Many players from those teams are currently on the varsity squad.
"(Junior high coach) Mike McCarthy winning two straight titles in junior high and getting us ready early was key," Reinhardt said.
Last Wednesday, Valmeyer blasted Lebanon to open regional play, 15-0. Maus went 2-for-3 with four RBIs and Juelfs added two hits and three RBIs.
Wallace is hitting .473 with four home runs, 41 RBIs and 41 runs to lead the Pirates. Juelfs, a junior, is hitting .449 with 33 runs and 11 stolen bases and is 6-1 with a 1.75 ERA on the mound. Krekel, also a junior, is hitting .429 with 38 runs and 18 stolen bases.
Philip Reinhardt is 7-1 with a 0.79 ERA on the mound.