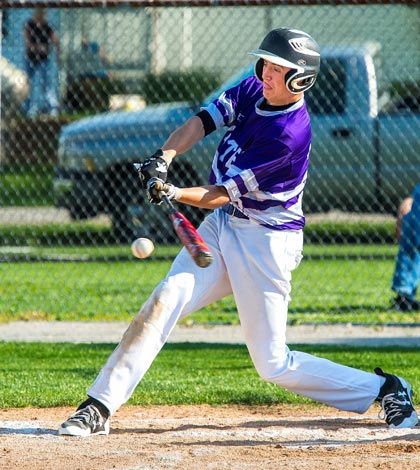 The battle for Monroe County baseball supremacy takes place Saturday in Waterloo, with no clear-cut favorite among the four evenly matched local squads.
Waterloo will host Valmeyer at Waterloo High School, while Gibault will host Columbia at SPPS Fields. Both games start at 10 a.m., with the championship and third place games to follow.
"All four county schools have a chance of winning it this year," Gibault head coach Andy Skaer said. "It should be fun."
Skaer, in his 13th year at the helm of the Hawks, won his 200th career game Saturday against Althoff. Gibault scored seven runs in the first inning, and that was more than enough for starting pitcher Collin Kessler, who recorded six strikeouts in the short-game home victory.
Trevor Davis went 2-for-3 with three RBIs and two runs.
"It means you've been around for a while with some measure of success," Skaer said of the milestone. "It's nice to get the recognition for our program."
Gibault (16-11) has won four straight and appears to be gelling at the right time. Skaer said his team has displayed good defense and timely hitting, and his starting pitchers are throwing strikes.
"We have our full lineup intact, and it is showing," he said.
Last Tuesday, the Hawks won 8-0 over Windsor. Tim Reinholz went 3-for-3 and Alex Stern went 2-for-3 with two RBIs. Davis pitched a complete game two-hitter with six strikeouts.
On Monday, the Hawks posted an 11-1 win at Metro East Lutheran. Davis went six strong innings and Austin Sweeney went 3-for-4 with two RBIs and two runs. Kessler, Mason McFarland and Matt Wolf added two hits apiece.
Davis is 5-1 on the mound with a 1.30 ERA and is hitting .386 with 26 runs and 13 stolen bases. Kessler is 4-2 with a 2.59 ERA. Matt Wolf is 2-0 with a 1.38 ERA.
Mark Branz leads the Hawks in hitting at .389 with 22 RBIs and 25 runs. Sweeney is hitting .387.
Gibault hosted Highland on Tuesday, and will host Dupo on Wednesday and Carlyle on Friday before Saturday's county tourney.
Waterloo (17-6) has had its share of ups and downs of late in the always competitive Mississippi Valley Conference.
"There's good competition across the board in the MVC, so it's the little things that swing the games one way or the other," said Waterloo head coach Mark Vogel.
Defensive misplays cost the 'Dogs in a one-run loss last week at Triad. On Monday, Civic Memorial pitcher Geoffrey
Withers held Waterloo to just three hits in a 2-0 loss.
In between the defeats, Waterloo swept a Saturday doubleheader at home against Mater Dei.
Erik Kaiser went 2-for-3 with a triple and Hayden Bender went 1-for-2 with two RBIs in a 3-0 win during game one, as Lucas Goodsell pitched a complete game with eight strikeouts.
Ben Maurer and Carter Chaisson held the Knights to just one hit in a 10-0 short-game win to close out the day.
"I feel pretty good about our team at this point in the season," Vogel said. "We still need to improve our defense a bit and get consistent hitting throughout the lineup."
Kaiser leads the team in hitting at .392 with 24 RBIs, followed by shortstop Tyson Roedl at .386 with 16 stolen bases.
Maurer is 4-0 with a 2.66 ERA on the mound.
Waterloo plays at Mascoutah on Wednesday and hosts Columbia in a make-up game on Thursday. The 'Dogs travel to Granite City on Friday.
Columbia (17-8) has lost four of five recent games.
The Eagles dropped a 10-0 contest to a tough Breese Central squad last Tuesday, and were held to just two hits.
On Friday, Columbia lost to Normal University High, 16-3. Brandon Kuchinski went 2-for-2 with a home run and two RBIs.
On Saturday, the Eagles split a doubleheader with Triad, losing 7-1 and winning 13-3. Dylan Hildebrand went 3-for-5 and Sam Spivey went 2-for-2 with two doubles in the win.
On Monday, Columbia dropped a conference game at home to Freeburg, 8-1.
Columbia played at Wesclin on Tuesday, and will battle Mascoutah at Busch Stadium at 5 p.m. Monday following Saturday's county tourney.
Shane Wilhelm is 6-0 with a 1.52 ERA and is hitting .414 with 17 RBIs to lead the Eagles.
Valmeyer (21-7) went 3-2 in recent play, winning the Kaskaskia Division of the Cahokia Conference for the third straight year in the process.
"Our hitters are getting hot at the right time and our top pitchers are throwing well with solid defense," Valmeyer head coach Greg Reinhardt said. "If we don't try to do too much out of our comfort zone, we are set for a long run in the postseason."
Last Tuesday, the Pirates posted a 15-0 win over Marissa. Tyler Kempfer went 1-for-2 with a grand slam and five RBIs. Jake Krekel went 2-for-3 with two RBIs and three runs.
On Friday, crafty freshman southpaw Philip Reinhardt threw a complete game six-hitter in a 6-0 win at Triad to open the O'Fallon tournament. Easton Wallace, who recently signed to play at Kaskaskia College next season, went 2-for-4.
On Saturday, Valmeyer fought hard in a 9-8 extra-inning loss to Mascoutah in the tourney before falling to the host Panthers, 12-1. Kempfer went 1-for-3 with a home run and Wallace went 3-for-4 with three runs against Mascoutah.
On Monday, the Pirates wrapped up the conference title with a 6-1 win at Dupo. Cole Juelfs went 3-for-4 and threw six and two-thirds innings with seven strikeouts.
Juelfs is hitting .471 with 29 runs and is 6-1 on the mound with a 1.78 ERA.
Wallace is hitting .469 with 34 RBIs, 36 runs and 21 doubles.
Philip Reinhardt is 6-0 with a 0.67 ERA.
"This team has been fun to watch and coach all year," Greg Reinhardt said.
Regional pairings
IHSA regional pairings were announced last week for Class 1A and Class 2A.
In Class 1A, Valmeyer hosts a regional and will take on the winner of Madison vs. Lebanon on May 17. The regional final is set for May 20.
In Class 2A, Gibault will play in the Red Bud Regional with a game against the host Musketeers on May 18. The regional final is May 20.
Also in Class 2A, Dupo plays in the Althoff Regional and will battle Althoff  on May 15.
The Class 3A regional pairings will be announced later this week.