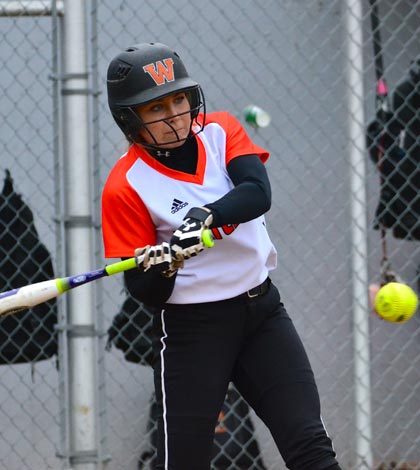 The Columbia High School softball team enters Thursday's Monroe County Softball Tournament with a 15-1 record following three more recent wins in dominating fashion.
On Monday, the Eagles defeated Chester at home, 9-4. Kelly Metter continued her successful spring, going 3-for-3 with three doubles and two RBIs. Metter his currently fifth in the entire St. Louis area with a .574 average. The senior shortstop also has four home runs and 24 RBIs.
Mikaela Kossina added two hits in Monday's win.
On Thursday, Columbia powered past Carlyle, 17-0. Courtney Weilbacher went 3-for-4 with a grand slam and five RBIs. Lexi Touchette went 2-for-3 with a homer and four RBIs. Metter and Chelsy Pena added three hits apiece.
Last Tuesday, the Eagles won easily over Wesclin, 11-0. Pena went 3-for-3 with a home run and three RBIs. Kossina went 3-for-3 with two RBIs. Touchette added two hits and three RBIs.
Weilbacher is hitting .509 with 28 runs scored and 20 RBIs. Touchette is hitting .451 with five homers and 30 RBIs.
Kaelyn Rheinecker is 8-0 with a 1.62 ERA. Kossina is 7-1 with a 3.72 ERA.
Columbia, which has outscored its opponents 170-48 this season, played at Red Bud on Tuesday. The Eagles will battle Gibault at 4:30 p.m. Thursday at the Waterloo Sports Association fields and the winner will play the winner between Waterloo and Valmeyer for county bragging rights…>>>
Read the rest of this story in the April 26 issue of the Republic-Times. If you don't already receive the paper, you can subscribe by calling 939-3814 or clicking here, or pick up a copy at any of these locations.