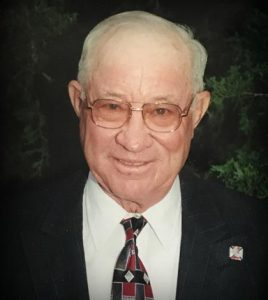 Clement "Clem" J. Wittenauer, 96, of Red Bud, died Dec. 8, 2017, at Red Bud Regional Care, Red Bud.
He was born Nov. 26, 1921, son of the late Walter and Frances Wittenauer (nee Kreher) in Prairie du Long Township, Monroe County.
He married Clara Schaefer Oct. 2, 1946, in Smithton; she preceded him in death April 18, 1981. Clem then married Bernice Hartmann (nee Goetting) Oct. 1, 1988, at St. John the Baptist Catholic Church, Red Bud; she preceded him in death Dec. 9, 2014. 
Clem had been a farmer, he also sold real estate, was an inventor and prepared taxes.  He also taught students to read at the Human Service Center. Clem was very proud that he earned his GED at the age of 65.
He was a member of St. John the Baptist Catholic Church in Red Bud, Randolph County Farm Bureau, American Legion Post No. 619 in Baldwin, Holy Name Society, Knights of Columbus No. 12152 in Red Bud, and the Mule Team Teamsters.
Clem was a World War II veteran of the Army Air Corp. He was stationed as a radar technician in Panama for 36 months. He also traveled on an Honor Flight to Washington, D.C.  
Survivors include his six children, Timothy Wittenauer of Freeburg, Susan (Deacon Thomas) Wilkinson of Alton, Cecilia Coller of Hazelwood, Mo., AnnaMay (John) Feurer of Chattanooga, Tenn., Rita (Larry) Huch of Columbia, and Regina (Donald) Dobbs of Evansville; three step-children, Janell (Willie) Maes of Red Bud, Kurt (Doris) Hartmann of Red Bud, and Dale (Emily) Hartmann of Murphysboro; brother Walter (Mildred) Wittenauer of Red Bud; sister Rose Mary Livingston of Auburn, Calif.; brother-in-law Willis "Butch" Meyer of Waterloo; and 17 grandchildren, 12 great-grandchildren, 2 great-great-grandchildren, 7 step-grandchildren, 11 step-great-grandchildren, 4 step-great-great-grandchildren, many nieces, nephews, cousins and friends.
He was preceded in death by his parents; first wife, Clara; second wife, Bernice; brother Delbert Wittenauer Sr.; four sisters, Rose Marie Wittenauer in infancy, Rita Kelley, Mary Anne Wittenauer and Frances Meyer; son-in-law Morris Coller, and several brothers-in-law and sisters–in-law.
Visitation is 4-8 p.m. Dec. 15, and 8-9:45 a.m. Dec. 16, at Welge-Pechacek Funeral Home, Red Bud.
A funeral Mass will be celebrated Dec. 16, at St. John the Baptist Catholic Church, Red Bud, Msgr. Dennis Schaefer and Deacon Thomas Wilkinson officiating.
Interment will follow at Ss. Peter & Paul Catholic Cemetery, Waterloo. 
Memorials may be made in the form of Masses, to the Red Bud Senior Center Van Fund or to the Red Bud Regional Care Activity Fund.
To sign the register book, visit www.wpfh.net.