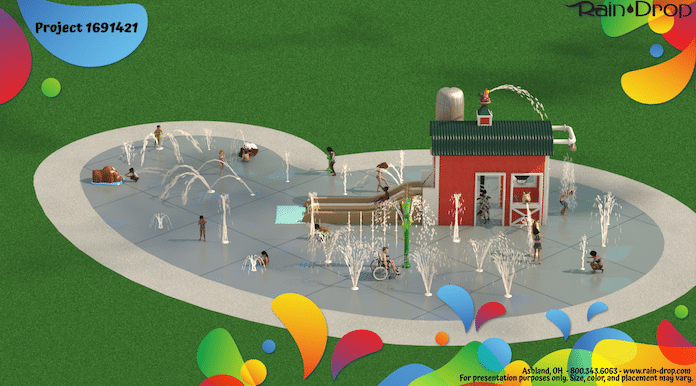 The Waterloo Park District could receive $200,000 from the City of Waterloo to be put toward its planned splash pad at Zimmer Park following a finance committee meeting held Wednesday evening.
The city's finance committee voted to recommend that the city transfer money from its video gambling proceeds funds – typically used for beautification projects – contingent on the park district acquiring an additional $400,000 necessary by Nov. 1 for the splash pad project elsewhere.
Also at the meeting, Amy Grandcolas of Waterloo Citizens for a Pool expressed her organization's willingness to serve as a pass-through for the park district by accepting the remaining $400,000 as a 501(c)(3) charity.
At a previous council meeting Waterloo Park District Board President Shelby Mathes said the William Zimmer Family Foundation had previously pledged $400,000 toward the splash pad, but a change in tax laws means such a foundation can't donate to a taxing entity such as the park district. A nonprofit organization like Waterloo Citizens for a Pool would be able to accept such a donation, which could then provide the park district with these funds. It is not yet known if the Zimmer Foundation is still committed to making this donation.
These talks follow a September park board meeting during which the board revealed bids for the project – the lowest being $1,534,405 from Fitzgibbons Contracting of Waterloo. The board is currently about halfway through its 60-day period to accept the bid.
This latest bid placed the overall cost of the splash pad at about $1.8 million, including money already spent on the project. This is a severe increase from the original estimate of $801,000 from the start of the project in 2019 that can largely be accounted for by the increase in labor and material costs due to shortages from the COVID-19 pandemic.
Read more about the Waterloo splash pad saga in next week's issue of the Republic-Times.