Bushong makes a splash in Coast Guard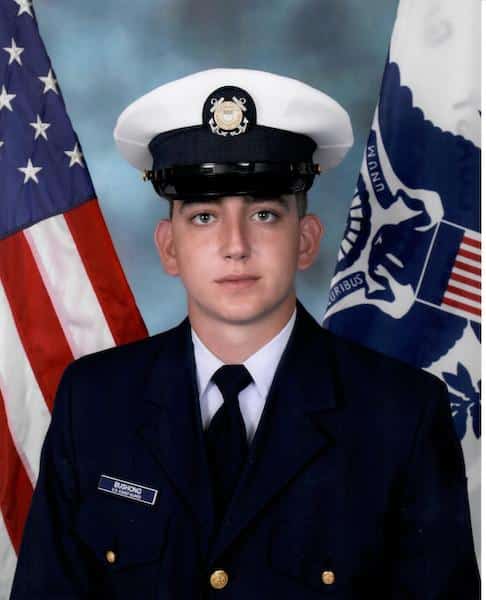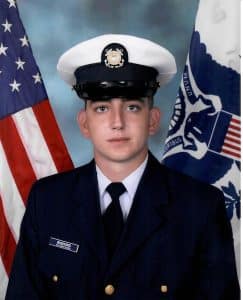 A Waterloo High School graduate has spent the past two years in the U.S. Coast Guard, and he's already managed to make a splash as he's found a place among his unit.
Justin Bushong's family moved to Waterloo in 2002 when he was a young boy. He grew up on the outskirts of town near Hecker, graduating from WHS in 2016.
Both Bushong and his father spoke about his grandfather's history in the U.S. Air Force. This was a major factor in his decision to join the military, as was a close family friend's experience in the Coast Guard.
Out of school, Bushong eventually found himself urged by that family friend to consider joining the Coast Guard, and he reached out to a recruiter in early 2020.
Though the COVID-19 pandemic threw a wrench in his plans, Bushong said he was able to ship out for boot camp in March 2021.
From May 2021 to March 2022, Bushong served on a cutter – one of the Coast Guard's larger boats – patrolling the coast near Kodiak, Alaska.
Having been eager for a change of scenery, Bushong noted he had requested to be sent "as far away from the Midwest as possible," though his real interest was and remains the southern coast.
Bushong then went to technical school in Yorktown, Va., to get his training as a boatswain's mate, which he described as a rather varied position in the Coast Guard.
"Boatswain's mate is kind of like the jack-of-all-trades of the Coast Guard," Bushong said. "They do a lot of operations. They're a very operational rank. They drive the little boats, they also can drive the bigger cutters, too. But it's also classified as one of the leadership roles in the Coast Guard. Everybody works for a boatswain's mate, whether you think about it or not, in the Coast Guard."
Since June 7, Bushong has been working with his small unit of five in the 8th Coast Guard District, which spans a wide range of 26 states from the coast of the Gulf of Mexico to the various interior rivers and waterways like the Mississippi River.
Bushong and his unit currently operate out of Gulfport, Miss., serving as aids to navigation.
"What we do now is we keep the ports and waterways open and safe for the basic mariner to navigate through," Bushong said.
He added the day-to-day of the job can often involve a lot of paper and administrative work, though their main duty tends to involve checking out and addressing any discrepancies that have been reported in their area.
There also tends to be a lot of work put toward maintaining their larger vessel when they're not busy out on the smaller boat addressing problems.
"We always joke about it, 'saving dying babies in the surf' is what everyone thinks about with the Coast Guard," Bushong said. "They don't really think about all the other little things that go into it. The law enforcement, the search and rescue and especially the aid to navigation teams that we have all over the place."
Bushong and his team work with minor and major aids which help mariners navigate in the water.
He compared the minor aids to telephone poles and said they mark channels for boats. Major aids are more substantial and mark the deepest points in a channel.
Bushong and his unit received some recognition recently for their work contending with a sort of engineering issue on those major aids.
"For the longevity of those big towers, they started going from 10-watt, 20-watt solar panels to big 100-watt solar panels," Bushong said, "and when they made the switch to those 100-watt solar panels, they just kind of said, 'Make it up as you go. Just however you can attach it, just do that.' We did that on one of our towers and it took as all day to figure out how to get the piece of equipment onto the tower."
With some clever fiddling, Bushong's unit was able to develop a method that would allow the panels to be placed just about anywhere on the tower. This method has since been more widely adopted within the Coast Guard.
That ingenuity led to Bushong being presented with a challenge coin by Capt. Ulysses Mullins.
"Getting a coin, really from anybody, but someone who's such a high-ranking officer in the Coast Guard, it was such an honor for me to receive it," Bushong said.
His father, Steve Bushong, remarked on some of his other achievements – namely that he is an Eagle Scout from Troop 323 – but stressed his pride at his son's recent accomplishment.
"I think he's gonna make it a career, to be quite honest with you," Steve said. "We're just so proud of him."
Following that already notable highlight of his short career, Justin expressed that he plans to stick with the Coast Guard for some time – though he hopes for a different station once his current contract ends.
As he said, while many in the Coast Guard tend to end up in Florida given the organization's existing presence, Justin hopes to be "underway" on a patrol boat doing much more traveling.
"I love being in Gulfport, but I really see myself more so getting underway on our patrol boats that can go all the way from Japan up to the Bering Strait, over to England and then as far south as the Mexican-American border," he said.