Bulldogs top Hawks for third straight win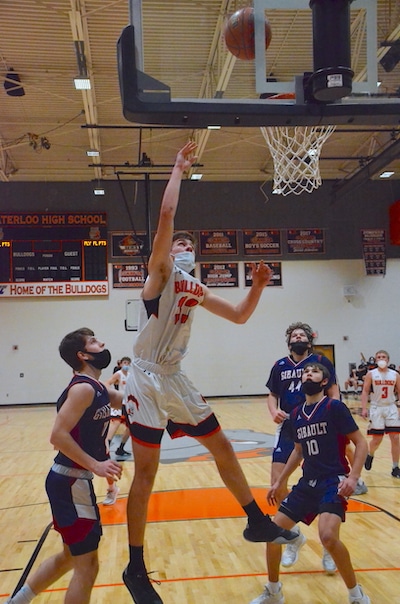 The Waterloo High School boys basketball team improved to 3-1 on the season with an impressive 51-32 victory at home Saturday afternoon over cross-town rival Gibault.
Up seven at halftime, the Bulldogs pulled away from the Hawks courtesy of a 12-2 run at the start of the third quarter.
Logan Calvert, a 6-foot-5 junior, was a strong presence inside for Waterloo, scoring 18 points and pulling down nine rebounds. Ty Lenhardt added 10 points.
"Our success can be attributed mostly to our commitment to the defensive end," first-year Waterloo head coach Scott Spinner assessed. "We knew today's rivalry would generate emotion and intensity in our guys, and I think we did a good job of taking that emotion and channeling it into the game plan."
It was the third straight win for the Bulldogs (3-1), who downed Civic Memorial on Friday night, 55-40. Dustin Crawford was the high-point man for Waterloo in that win, scoring 15 points.
"Due to the weather, we have now played four straight games without a true practice," Spinner said. "The players have shown an ability to take information from our scouting reports, film sessions and walkthroughs and apply those strategies in the game. That's a very tough task without having practices, so we are very proud of them for doing it."  
Waterloo hosts Triad on Monday in a Mississippi Valley Conference showdown.
Gibault (2-4) lost at home Friday night, 43-37 to Marquette. Sophomore Kameron Hanvey led the Hawks with 17 points.
The Hawks play Tuesday at Mater Dei.
In other boys hoops action from Saturday, Columbia (2-2) lost 57-45 in double overtime at Carlyle. Jackson Holmes led the Eagles with 13 points and eight rebounds.
Columbia plays at Okawville on Monday.
Valmeyer improved to 3-1 on the season with a 54-40 win at New Athens on Saturday. Jacob Rowold scored 20 points and Nathan Touchette added 14 points for the Pirates. Gannon Birkner scored 16 points to lead New Athens.