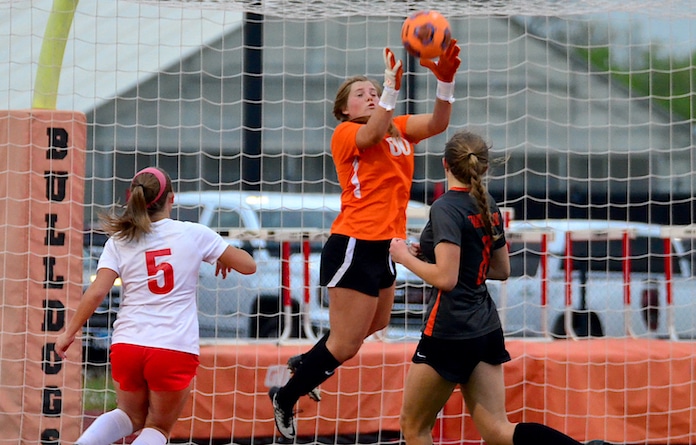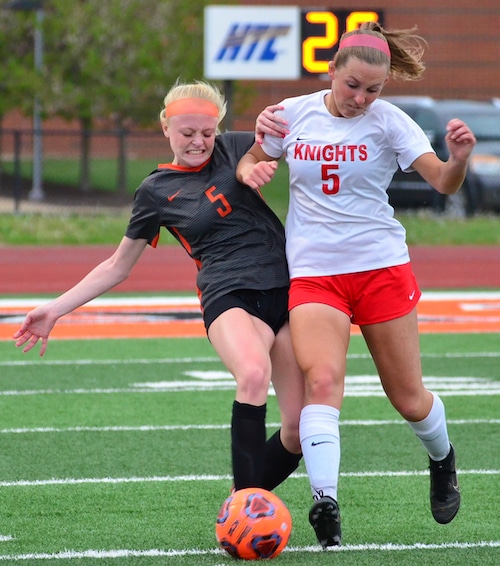 The Waterloo High School girls soccer team slayed the dragon Thursday night, taking down unbeaten Triad at home and stopping the defending state champ's 39-game winning streak.
Payton Richter netted both goals for the Bulldogs. Richter's header off a Karley Kinzinger free kick in the 33rd minute gave the Bulldogs the 1-0 lead. Richter scored again in the 60th minute.
She now has 25 goals and 11 assists on the season to lead the team.
Waterloo's defense clamped down on the Knights, who were unbeaten in their past 41 matches dating back to 2019. Triad just couldn't unlock the Waterloo defense, which kept a high line and was successful in several offside traps.
Lexi Stephens made six saves in net for the Bulldogs.
Thursday's win was just the third for Waterloo over Triad in program history, and the first ever in regulation. The Mississippi Valley Conference rivals have played 49 times.
Ironically, Triad's long winning streak began April 22, 2021, with a 1-0 victory over Waterloo.
"Our defense did an amazing job,"Waterloo head coach Chad Holden said. "It was the first time Triad had been shut out in 39 straight games. Center backs Josie Briggs and Norah Gum were able to get Triad offsides numerous times and our outside backs Karley Kinzinger and Liv Colson were able to make runs from the back and were always dangerous."
Triad has only surrendered six goals all season, and Waterloo scored three of them.
"Of course, the win was huge for our program but we know we still have a lot of season to go and we can't make this one game define us," Holden said. "We still want to make a great run in the postseason."
Waterloo continued its winning ways Monday with a 2-0 victory over Belleville West. Richter and Sophie Colson netted the goals for the Bulldogs.
Waterloo (15-3-1) played Tuesday at Mascoutah, avenging an April 7 defeat by winning 2-1. Richter and Colson again scored the goals. Waterloo has won eight straight and is 9-0-1 in its past 10 matches.
On Thursday, the 'Dogs play at Highland before hosting O'Fallon on Monday. 
Class 2A regional pairings were announced last week.
Waterloo opens regional play May 17 at Centralia. With a win, the Bulldogs would face either Carterville or Olney for the regional title on May 20.
Columbia (11-7-1) lost 3-1 to Belleville East last Tuesday, but has won four straight matches since.
Last Wednesday, the Eagles walloped Wood River to the tune of 18-0. Maddie Mauch and Riley Mathews each recorded three goals and an assist, with Caitlyn Schwartz also netting a hat trick.
Emily Holmes added a goal and three assists for Columbia.
The Eagles played in Burlington, Iowa, over the weekend, winning a trio of matches.
On Friday, Columbia bested Springfield, 2-0. Mathews and Taylor Martin scored the goals for the victors.
On Saturday, the Eagles won two games over Iowa teams, 9-0 over Burlington and 2-0 over Linn-Mar.
Mauch, Martin and Reese Woelfel netted two goals each against Burlington and both Martin and Mauch scored again in the win over Linn-Mar.
Brooklyn Oestreich made six saves in the shutout over Linn-Mar.
Columbia played Tuesday at Salem and hosts Freeburg on Wednesday to close out the regular season.
The Eagles open Class 1A regional play at 5 p.m. May 11 against DuQuoin at Oerter Park.
Mauch leads Columbia in scoring this season at 21 goals and 11 assists, followed by Martin with 12 goals and three assists.
Gibault (6-9-2) lost 4-1 last Tuesday to Marquette. Reece Ward scored for the Hawks.
Last Wednesday, the Hawks tied 1-1 at Father McGivney. Elena Oggero scored and Katie Tomiser made 12 saves for Gibault.
On Thursday, the Hawks lost 5-0 at Althoff despite Tomiser making 15 saves.
On Saturday, Gibault played to a scoreless tie at home against St. Pius X. Addie Murphy led the Hawks with three shots.
The Hawks conclude the regular season Thursday at home against Breese Central.
In the Class 1A Gibault Regional at Oerter Park, the Hawks open against Pinckneyville at 7 p.m. May 11.
Emily Richardson leads Gibault in scoring this season with eight goals and three assists, followed by Ward with five goals and eight assists.