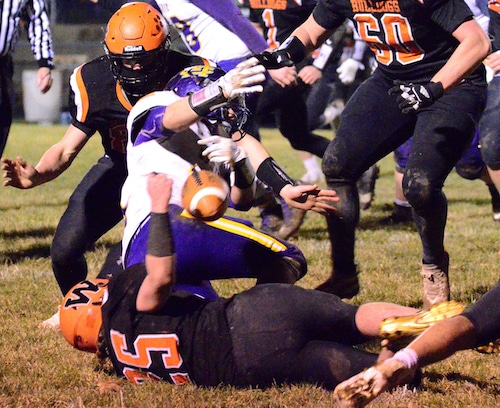 Excitement was in the air for the start of the high school football season Friday night in Waterloo and Columbia, and both teams delivered victories for the home crowd.
Playing on the old grass field behind the former high school due to the turf field at the current high school needing repairs, Waterloo turned back the clock in a 33-19 over Civic Memorial.
"It was good to be playing again," Waterloo head coach Dan Rose said afterward, adding that playing on the old field for the first time in more than 10 years was fun. "We've got real fond memories of that place."
Both teams had trouble holding onto the ball early, but the Bulldogs eventually prevailed with key scoring plays from their defense and grinding down the clock on offense.
Waterloo had three fumble recoveries on the night, the key one being a recovery and 65-yard touchdown return by Noah Meyers late in the first half. The game was tied 13-13 at halftime.
"The first half was sloppy for both teams," Rose said. "But we settled down and fixed some problems. The younger guys got the jitters out of their system."
Following a Jack MacFarlane TD run early in the second half, the Bulldogs put a stamp on the night courtesy of an interception return for a score by Aidan Morrow late in the third quarter.
Evan Davis led the 'Dogs with 111 yards rushing on the night.
Waterloo travels to Granite City on Friday night. The Warriors lostt 16-0 at Jerseyville to open the season.
"They are big up front," Rose said of Granite City, which features 360-pound lineman Dorian Arquelles and 310-pound lineman Alex Wright.
Eagles soar
In Columbia, it was the Londyn Little show in a 47-0 blasting of Red Bud.
Little, a senior speedster who will play college football and run track at the University of Wisconsin-Oshkosh next season, scored three first half TDs for the Eagles. He returned the opening kickoff 77 yards, returned an interception for 45 yards, and added a 14-yard TD reception.
He also returned a punt 46 yards, which led to another score.
"He's an electric player, and he did not disappoint Friday night," Columbia head coach Scott Horner said. "He's been doing good things for us for years."
Columbia's defense had four interceptions and two fumble recoveries on the night.
"Anytime your defense gets six turnovers, you'll take it," Horner said.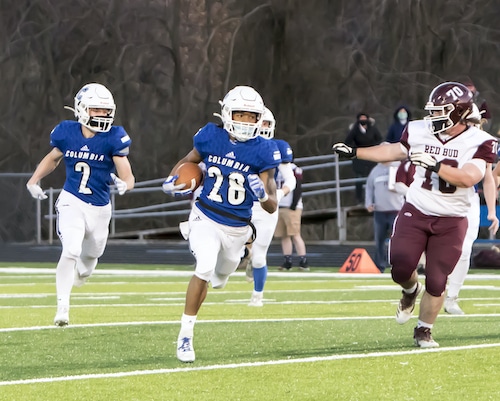 Eagles quarterback Colin McLaren, a senior, was a perfect 11-for-11 passing for 93 yards and two scores.
"He made good decisions," Horner said of his new starting signal caller. "I was extra pleased with his decision making."
Despite the lopsided victory, Horner said he'd like to see more consistency in his team's running game going forward.
Up next for the Eagles is a tough road test at Breese Central on Friday. The Cougars blasted Wesclin in their opener, 51-0.
"They're well-coached," Horner said. "It will come down to whoever controls the line of scrimmage."
Tigers fall in OT
In other local high school football action from Friday night, Dupo lost on the road at Carlyle, 12-6, in overtime.
All the scoring in regulation came in the first half.
Tigers quarterback CJ Robinson was 12-for-29 passing for 166 yards with one touchdown pass and one interception.
Camden Biggs had 82 yarda rushing. Jacob Taylor caught nine passes for 92 yards.
On defense, Hunter Stephens had 12 tackles and five assists.
"Our kids played incredibly hard but we just couldn't finish," Dupo head coach Joe Day said. "We were pretty productive offensively, going over 300 yards, but you really have to tip your hat to Carlyle. Once we got inside of the 10 yard line, they had a great 'bend but don't break' mentality. We have to be more efficient in the red zone."
Dupo travels to Madison for a Saturday afternoon contest.