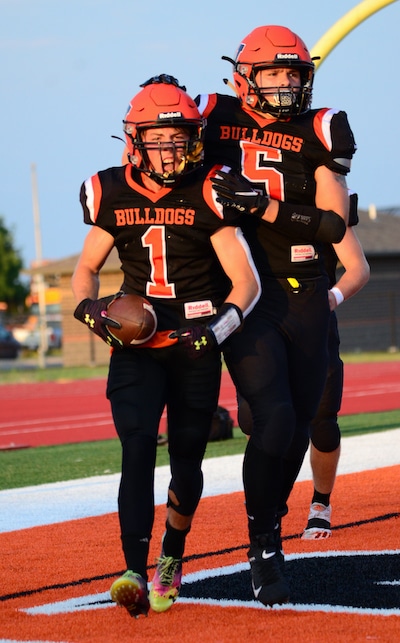 The football season didn't start off so great for Waterloo or Columbia on Friday night, as both fell in their home openers.
The Bulldogs made a return to their athletic field at the current high school after being forced to play home games on the old grass field off Rogers Street in the spring. This was due to the turf being destroyed by flooding in 2020.
Despite an enthusiastic home crowd and a new turf playing surface. Waterloo lost to Mater Dei, 31-13, as the Knights racked up 254 yards on the ground and another 188 yards through the air. 
The Bulldogs got on the scoreboard first, with Jack McFarlane recovering a ball in the end zone at 10:40 of the first quarter to make it 6-0.
Mater Dei marched right up the field on the ensuing drive, however, scoring on a one yard run to make it 7-6.
An errant punt by the Bulldogs gave Mater Dei great field position, and the Knights capitalized with another short TD run to go up 13-6. That was the halftime score.
A 60-yard TD run by Cameron Haag at 8:09 of the third quarter made it a 19-6 advantage for the Knights on this steamy night.
"You just can't allow the big plays," Waterloo head coach Dan Rose said.
A couple of Mater Dei players succumbed to cramps in the heat, but that didn't stop the team from adding to its lead.
A 50-yard pass play ended with a short TD run to put Mater Dei up comfortably at 25-6 at the end of the third quarter.
Waterloo quarterback Aidan Morrow connected with McFarlane on a 28-yard passing TD in the fourth quarter, but it was not enough for the Bulldogs.
Lexi Stephens kicked her first career extra point, becoming the first female to score a point in the history of Waterloo's football program.
"She made some history," Rose said of his new kicker. "She's done a solid job for us."
Waterloo's Evan Davis rushed for 98 yards on the night, and the Bulldogs' defense recorded five quarterback sacks and two fumble recoveries.
"Our defense was pretty solid," Rose said.
Rose said the game was closer than the final score might indicate, as his team was in the game much of the night.
Ethan Horvath looked to have landed one foot down in the end zone after catching a pass late in the game, but the official ruling was no catch.
Rose said his team needs to improve in a couple of areas going forward.
"We need to get more done up front," Rose said. "We also need to make better decisions with the football."
The opponent this Friday is rival Columbia. Rose said the Eagles are "a little like Mater Dei."
He said Columbia will try to run screens and trips and cross outs and counter runs.
"They have a big QB who can run and throw," Rose assessed. "We'll need to be prepared."
Kickoff is at 7 p.m.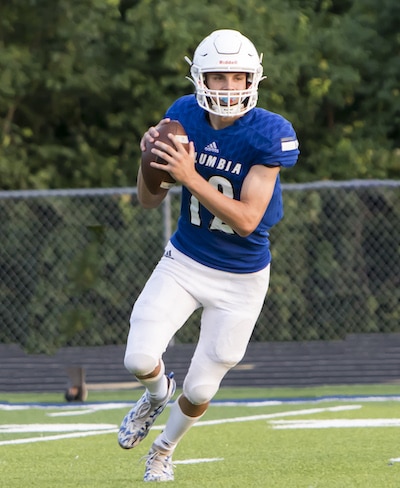 Columbia ran into a tough Mascoutah squad for its season opener at home Friday night.
The Indians, who went 5-1 in the spring to win the Mississippi Valley Bowl Series, rushed for 286 yards and threw for 292 yards in a 42-14 victory over the Eagles.
The score was actually tied at 14-14 after the first quarter.
Columbia's Owen Brewer recovered a fumble and ran 55 yards for a score and Eagles quarterback Dominic Voegele rushed for a four-yard TD.
"(We) got off to a great start with a scoop-and-score by Owen Brewer and actually held a 14-7 lead," Columbia head coach Scott Horner said. "We just couldn't generate any offense and Mascoutah took advantage of a turnover and they scored 35 straight."
Mascoutah scored three second quarter TDs to pull away and never looked back.
Mascoutah quarterback Chase Hanson ran for 153 yards and two scores and threw for 292 yards and three TDs.
His top receiver on this night was Allen Middleton, who caught 10 passes for 208 yards.
There were several stoppages in play due to players cramping up from the heat, more so on the Columbia side.
In addition, Columbia's Jeremiah Bueltemann was carted off the field with a serious leg injury.
There were 30 penalties called in the contest.
Columbia was held to 65 yards rushing and just 14 yards passing on the night.
"Our depth and inexperience really hurt us," Horner said.
Alizjah Jarvis was Columbia's top rusher on the night with nine carries for 25 yards.
Kyle McConachie had six kickoff returns for 115 yards.
In addition to his defensive touchdown, Brewer recorded a quarterback sack and had six tackles and an assist for Columbia.
The Eagles will travel south on Route 3 for a rivalry showdown at Waterloo this Friday night. Both teams will be seeking their first victory of the season.
"The Waterloo game will the same as always. They are aggressive, and we have to control the ball and keep it away from them in hopes to score and generate some momentum," Horner said.