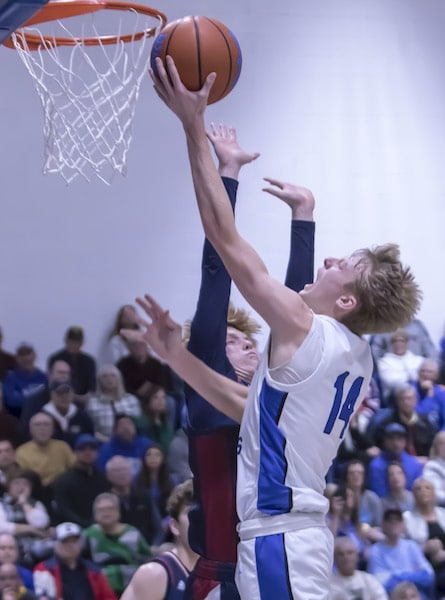 A battle of two Monroe County rivals that are among the best small-school hoops teams in the state went to Columbia on Friday, but Gibault showed it can make noise this upcoming postseason.
Columbia (25-3) won 51-45 at home over the Hawks (22-6), despite Eagles leading scorer Dylan Murphy sitting due to a sore ankle.
Jack Steckler led Columbia with 19 points and Sam Donald contributed 17 points, 11 rebounds and six assists.
For Gibault, Kameron Hanvey scored 13 and Hudson Blank added 12 points.
The victory was head coach Mark Sandstrom's 300th career win at Columbia. He has 384 career victories.
Columbia faced another tough opponent Tuesday, that being Cahokia Conference rival Breese Central (22-4) in a battle of top Class 2A teams.
Murphy returned to action for this contest, but Columbia lost 50-39.
Columbia hosts Roxana on Friday and Freeburg this Tuesday.
Last Tuesday, the Eagles won 73-49 over Civic Memorial. Steckler scored 24 points, Brody Landgraf scored 20 and Donald contributed 10 points, 11 rebounds and seven assists.
Gibault, one of the top Class 1A teams in the state, followed Friday's loss with a convincing 63-37 win at home over Okawville on Saturday.
Kaden Augustine scored 23 points and Gavin Kesler added 18 as the Hawks shot 62 percent from the floor.
Last Tuesday, Gibault won 61-28 over Valmeyer. Augustine and Kesler again led the way for the Hawks with 15 points each.
Gibault played Tuesday at Granite City, winning 57-27, hosts cross-town rival Waterloo on Saturday and then hosts Highland this coming Tuesday.
Waterloo (7-21) had lost seven straight games before Tuesday.
The Bulldogs dropped a 44-28 contest at home to Edwardsville on Saturday, which was preceded by a heartbreaking 50-49 loss Friday at Civic Memorial.
Last Tuesday, Waterloo lost 56-46 at Granite City. Alex Stell led the way for the 'Dogs with 20 points, 12 rebounds and four blocks.
Waterloo played Tuesday at Salem, winign 51-45, and hosts Jerseyville on Friday prior to Saturday's showdown at Gibault.
Valmeyer (6-17) picked up a 63-34 win at Hancock on Monday. Harry Miller poured in 23 points and Jacob Brown scored 12 for the Pirates.
On Friday, Valmeyer lost 51-32 at Steeleville.
Last Wednesday, the Pirates lost 84-60 at St. Pius despite 24 points from Miller.
Valmeyer plays Friday at Dupo, hosts Lebanon on Tuesday and plays at Roxana next Wednesday.
Dupo (3-13) lost 66-25 to New Athens on Friday, which was preceded by a 53-17 loss to Maryville Christian on Thursday.
The Tigers play this coming Tuesday at Steeleville.