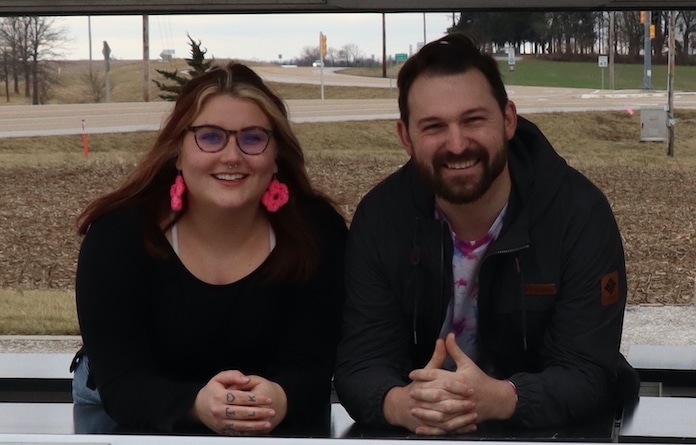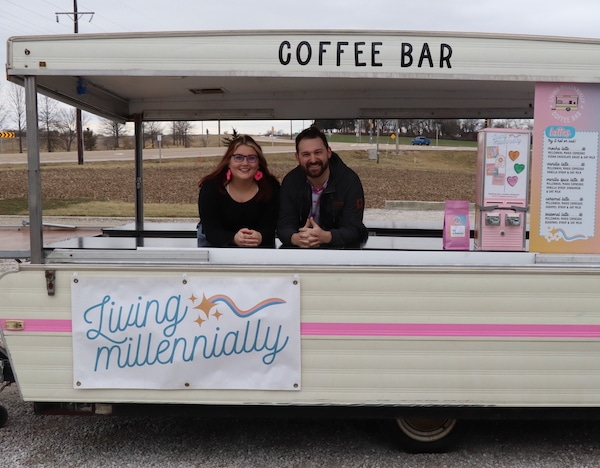 A new coffee shop in the community has been getting plenty of attention over the past year, though those looking to get their caffeine fix won't be getting the usual cafe experience.
Living Millennially is a pop-up coffee shop that officially started in November 2021. The shop currently operates out of a small pastel trailer that has appeared at a number of events over the past year.
The cart's most frequent sites are the Monroe County Farmer's Market and Dear Diva Desserts in Columbia, but Living Millennially has also appeared in locations throughout the county – even making forays into Missouri.
The business was originally the idea of couple Paige Hewett and Caleb Wolz, respectively described on their website as "Chief Oat Milk Officer" and "Jack of All Trades."
The duo originally started and sold Proving Ground Coffee in Columbia some time ago. This more recent business venture was spawned during the height of COVID-19 pandemic protocols.
"When COVID happened we were both staying at home a lot, and didn't have much to do," Hewett said. "I'm a graphic designer. Caleb's been roasting coffee for 10 or so years. So I was like 'Hey, wouldn't it be really fun to make our own coffee brand?'"
Hewett further explained the origins of the Living Millennially brand. She described the vibe of the shop as "bougie on a budget."
With the name's origins as Hewett's Instagram profile, the couple have decided to lean into the millennial identity, being loud and proud about their love for lattes and oat milk.
"I had an Instagram account called Living Millennially where I would just post things that I would do," Hewett said, "and then I was like 'I'm gonna call it Living Millennially,' have it be a fun, millennial brand and just have a good time with it.'"
In the year the shop has been operating, they've been quite successful. From their beginnings selling bags of coffee and pumpkin spice drinks at Waterloo's PumpkinFest to their partnerships with Dear Diva and other local businesses, Hewett and Wolz said there has been plenty of demand.
It was quite the trick to fit all the necessities of a coffee shop into such a trailer – a converted 1977 StarCraft Pop-Up Camper they purchased on Facebook Marketplace – though their combined experience working in cafes helped greatly.
One issue they encountered putting together was refrigeration, thus the need for oat milk which has become a beloved staple for customers.
Hewett would hardly call the exclusive use of oat milk a problem, however. Not only does she have a tatoo demonstrating her love for the alternative milk on her knuckles, she has also heard high praise from many customers who themselves have found a new love for it.
The oat milk also serves as one of many ingredients that help make the shop's entirely vegan menu so accessible to customers with allergies and other dietary restrictions.
Alongside that commitment to making their drinks available for anyone, the couple said they also place a special emphasis on sustainability.
While the shop has been quite successful even with semi-irregular operating hours, the couple and their fellow team members have run into some issues.
A mobile operation, they said, has forced them to deal with a variety of operational prerequisites that they wouldn't have encountered in a brick and mortar business.
Their trips to Missouri have been particularly difficult in terms of having to jump through hoops, though they noted every city is different when it comes to business regulations.
Weather, naturally, also offers the occasional issue.
The couple recounted at least one instance where they were left thoroughly soaked after having to close the shop and get the trailer packed up.
They also spoke about the distinctly millennial experience of operating a mobile coffee shop instead of a brick and mortar.
They said the cheap trailer and the amenities within ended up requiring relatively low and accessible startup costs, something that is often a necessity for young individuals looking to get a business going.
"Of course we would sell oat milk lattes out of a pop-up trailer," Wolz joked. "Because we're millennials, that's what we can do, we make it work. We figure it out."
Looking to the future, the couple said a more typical cafe wouldn't be out of the question – though Wolz was jokingly disapproving – so long as they're able to get the capital necessary to put it together and they can find a decent location for it.
"It's a big step, and it's definitely something we want to make sure is going to be the right fit for wherever we're at personally as well as wherever we start it," Wolz said. "You know, where do we wanna have the building? We love our community, and we love that this is something we can bring to our community, and if Waterloo wants a very specialty roasters coffee shop, if we could make it work."
For the moment, Living Millennially will remain mobile, though the business is currently closed for the winter to take care of improvements to the trailer.
"Right now we're doing some renovations," Hewett said. "We've been around for a year and we realized there are some things that can help us have a better flow and better work space and work area."
The Living Millennially cart will once again be open Feb. 11 from 9 a.m. to 1 p.m. at Coach's Corner, 1165 S. Market Street, Waterloo.
The couple also has a partnership event at Dear Diva Desserts planned for Valentine's Day.
For more information or to subscribe to Oatie Fans – Living Millennially's text service to alert customers to where they'll next be popping up – visit livingmillennially.com.