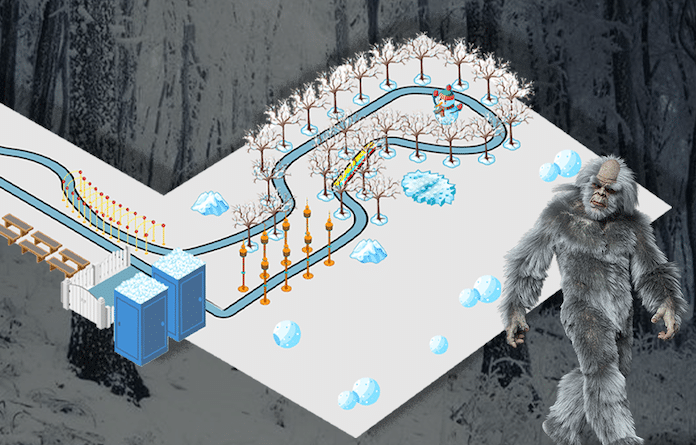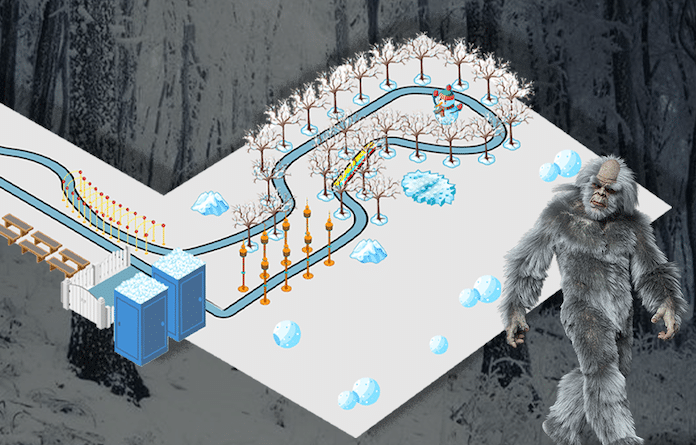 An upcoming winter event from the minds of three former Columbia High School students could be the beginning of a new, creative start-up.
The Frozen Forest is an outdoor roller-skating experience that's set to take place Feb. 3-12 at LifeChurchX, located next to the YMCA off Route 3 south of Columbia.
The Frozen Forest will allow participants to skate or walk through a trail that is one-tenth of a mile. As organizers describe, attendees will travel through "eerie tiki torches" into a wooded area with multi-colored lights. The end of the short trail features a tunnel of fairy lights.
Once they're finished, participants will be able to go through the trail as much as they like, seeing all the sights again – including a yeti hiding among the trees.
The event is organized by brothers Chase and Logan Taake along with their friend Sawyer Laxton, a trio in their early 20s who have long discussed the idea for their current business "The Heros."
The trio has plans for more events in the near future – including the return of a bigger and better Frozen Forest next year.
"This'll actually be part of a four-event series making up a bigger story that we're gonna make, but each event is fun on its own even if you care nothing about the story," Chase said. "Each event will be super fun if you could care less about it."
Chase participated in Monroe County startUP during high school. This entrepreneurial experience has since helped push him and the trio toward the realm of business ventures.
A major focus for them has been, as Chase put it, the idea of helping those in the community view their lives as a movie.
Each member of The Heros expressed an interest in stories as well as plans to grow the scope of the business tremendously in the years to come.
"Like five years ago, we crafted the idea for a business to basically accomplish two things," Chase said. "Every single day have something that you can do. When we were done with school, we'd always sit at a table at a coffee shop in Columbia and say 'What do you wanna do today?' There's nothing to do, as a kid, besides, like, go to Walmart and walk around, so we want to make something where every day you can do something, which is further on down the road. We can't do that with events. But then we also wanted people to view their life as a cool story, like when you're older, if your life was turned into a movie, how cool would that movie be? We want to create a business that's easy for you to make that story way cooler."
Chase went on to explain some of the long-term goals for the business in their efforts to help people enrich their lives.
In particular, he described the possibility of an app that he would like to see put together sometime in the next few years.
The app, as he explained it, might serve as a means for individuals to keep records of various achievements. Some would be physical challenges while others could involve participation in escape rooms or other organized events.
As Chase explained, the goals for the app and the business in general could be viewed as activity and connectivity, always giving individuals in the community something to do with their day while helping them stay in touch with friends.
These ambitions all begin with the upcoming Frozen Forest. Logan said this event will help the trio see how successful their future endeavors might be, though a key goal for the trail is simply to serve as a fun event for the community.
"My personal goal for the Frozen Forest is mainly to basically prove that the model me, Chase and Sawyer have kinda mocked up can be a successful one, also just kinda watch our vision come to life," Logan said. "On top of that, we really do just want people to enjoy it, whether it's families or through the youth. We want people to have a good time, we want people to be excited for it."
Logan echoed many of Chase's aspirations for the business. He added that the three partners are generally very open to whatever their future might be.
"We would be willing to take the company in any direction," Logan said. "We would certainly open up Pandora's box and kinda see where it takes us. Having a brick and mortar, it would seem hard where we are now to make that make sense where we're at in our business and our storyline, however if it fits, that's something we would absolutely do in the future."
Tickets for the Frozen Forest cost $20 for adults and $15 for kids, with discounted tickets of $13 per person for groups of 10 or more.
Tickets can be purchased at the event or in advance at theheros.biz/thefrozenforest.