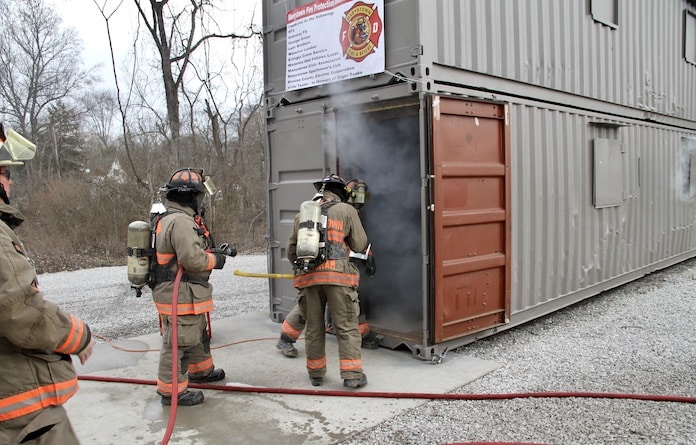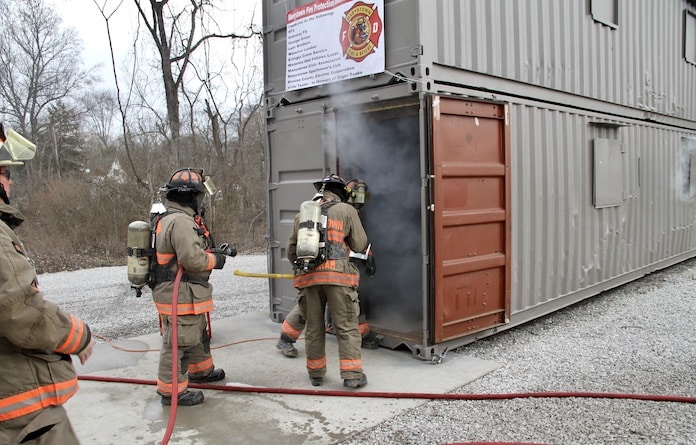 The late Roger Taake would have been proud of the community coming together to create a two-story "training tower" on Maeystown Volunteer Fire Department grounds.
The new training structure is made of two metal cargo containers stacked on top of each other.
The tower allows firefighters to practice simulated various techniques involving search and rescue exercises in confined spaces. It also provides an area for repelling and rope-rescue training.
During a dedication ceremony on Sunday, Maeystown Fire Chief Lynden Prange took time to remember Taake, who had been chief at the department during his 18 years with Maeystown and had also been a member of the Valmeyer Fire Department.
"He was a staunch believer in training," Prange said of Taake, who passed away in December 2019. "He always said that all the new trucks, new equipment and new technology wasn't worth anything if the firefighters didn't know how to use it and how to properly fight fire. That is very true and is true to this day. Training is the most important thing that firefighters have. The fire ground is not a place for them to train."
Prange also thanked Vicki Taake, who made a donation in her late husband's name toward the purchase of a smoke simulator machine for use with the training tower.
Prange said Vicki is "a person who is dear to our hearts of the firefighters and our firefighting family."
Prange also thanked the Maeystown Fire Protection District Board of Trustees for their support.
When a discussion among Maeystown firemen arose two years prior about possibly building a training tower, Prange said trustees were "all on board about (the project). They gave us a budget and told us to do what we had to do."
The construction was aided by "many, many man-hours to keep costs down," Prange added. "All of this was done by firefighters. We had no outside help or labor, except the steps."
He continued by noting it was a "slow process" to get the tower completed by the time the cargo containers were obtained, concrete was poured and other preparations such as welding and metal cutting were completed.
Prange thanked several businesses who donated time and equipment to help finish this project.
Russ Erlinger Crane Services donated used of its equipment to place the containers; Luhr Bros. Inc. welded, fabricated and painted the steps used on the inside of the structure; Waterloo Lumber Company donated interior doors for the tower.
Prange also thanked several businesses for monetary contributions, including Harrisonville Telephone Company, Monroe County Electric Cooperative, Maeystown Civic Association, Maeystown Sportsman's Club, Gateway FS, Waterloo Oddfellows Lodge and Monroe County Commissioner George Green.
Following the dedication ceremony, guests witnessed a training simulation on the new tower.
Maeystown firefighters were tasked with locating a dummy in the smoke-filled containers while others practiced repelling.
Prange said "this tower is open to our neighbors as well," and that other area fire departments may use it for training whenever they wish.
He added a joint training session for all county departments, including Red Bud, is being planned within the next couple of months.
Columbia Fire Chief Mike Roediger said he is "highly in favor" of using the Maeystown training tower, adding the next closest similar structure is at the Southwestern Illinois College campus in Belleville.
"We're very proud of what we've got," Prange said. "I know Roger is looking down on us and saying 'guys, keep up the training.'"