Baseball like it oughta be at Borsch Park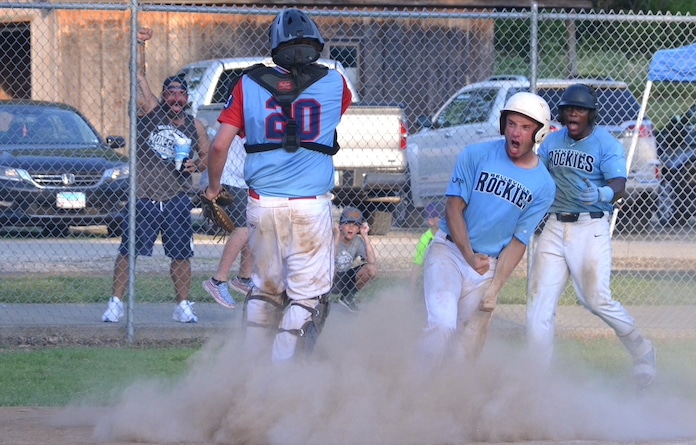 Organizers of the 2023 Valmeyer Midsummer Classic baseball tournament at Borsch Park are continuing a "turn back the clock" theme from last year's 50th anniversary – fitting since many fans of the annual event praise it as the way the sport used to be played or should be played.
This year's classic begins 9 a.m. Saturday and continues all day Sunday and Tuesday, culminating with a mid-afternoon championship game.
Teams in this year's tournament are the host Valmeyer Lakers, Waterloo Buds, Millstadt Green Machine, Belleville Rockies, St. Louis Spikes, St. Louis Printers, Edwardsville Stags and Cape Girardeau Capahas.
For a full tourney bracket, see below.
A throwback as part of last year's milestone event was the use of only wooden bats in the tourney.
Behind a vintage pitching performance from veteran Mark Mueller and the benefit of shaky infield defense by Valmeyer late in the game, the Belleville Rockies edged the Lakers, 8-7, for the title.
Honored last year were members of the 1971-72 Lakers who organized the first classic.
This year, the 1973 Lakers squad that won the tourney for the first time will be honored.
Playing in the 1973 tourney were Waterloo, Columbia, Millstadt, Neunert, Shiloh, Freeburg, East Alton and Valmeyer.
Valmeyer opened that tourney with a 13-3 win over Alton. Bob Blank was the winning pitcher and Ron Rohlfing hit two homers and a double for the Lakers.
In the semifinal round, the Lakers downed Shiloh, 7-1. Randy Esker threw a three-hitter and Ron Rohlfing hit his third homer of the tournament before signing with the St. Louis Cardinals after the game. Wayne Rohlfing added a two-RBI triple.
In the title game, Valmeyer defeated the rival Waterloo Buds, 7-5. Lou Sondag was the winning pitcher and Blank picked up the save. Gary Pieper hit a grand slam for the Lakers and Al Studt hit a grand slam for the Buds. Allyn Rohlfing had a double and a single for the Lakers.
Esker will throw out the ceremonial first pitch before the third place game of this year's tourney on Tuesday.
Also being honored at this year's classic is the late Ray "Bud" Rippelmeyer. His son Brad will throw out the first pitch prior to Tuesday's title game.
Rippelmeyer, who passed away this past September, was one of the greatest athletes Monroe County ever produced.
After excelling in baseball and basketball at Valmeyer High School and Southern Illinois University in Carbondale, he signed a baseball contract with the Milwaukee Braves in 1953. He transferred to Southeast Missouri State University in order to continue his basketball career and went on to become a collegiate All-American, setting the scoring record for the Indians.
He went on to have a 50-year career in professional baseball, winning 115 games as a pitcher including one in the major leagues. After his playing days ended, he began a long coaching career – most notably nine years with the Philadelphia Phillies.
Rippelmeyer was a longtime supporter of Lakers baseball.
The Lakers are likely the odds-on-favor to win this year's classic.
Valmeyer won four more games this past weekend to improve to 12-1 in league play. The Lakers downed Edwardsville, 13-2 and 8-6, on Saturday. On Sunday, the Lakers won 2-0 and 4-2 over the Spikes.
On Saturday, Trevor Davis pitched a complete game victory with 10 strikeouts in game one and Logan Mueth drive in the winning run in game two for the Lakers.
Matthew "Big Diesel" Helm drove in six runs on the day. Jonah James went 4-for-5 with five runs on the day and Dom Voegele went 4-for-6 with three RBIs.
On Sunday, Jacob Thompson pitched a complete game shutout in game one, with Kenny Otero picking up the game two win thanks to his own two-run homer.
Adrian Martinez had two homers on the day and Voegele stayed hot by going 3-for-6.
Voegele (.609) and Martinez (.571) are the league's top two hitters.
Davis is 4-0 on the mound with a 1.62 ERA and is hitting .405.
Millstadt enters the tourney with a record of 9-7 after splitting two games Sunday with Edwardsville. The Green Machine lost 9-7 but won 16-1.
Brian Lupa is the leading hitter for Millstadt thus far at .500 (15-for-30).
Cal Kossina leads Millstadt's pitching staff at 2-1 with a 1.58 ERA.
Waterloo enters the tourney at 6-5 after winning two of three recent games over Cape Girardeau.
Eric Kaiser has a 2.00 ERA in 14 innings to lead the Buds pitchers.
Preston Wright is hitting .538 (7-for-13) and Ty Kueper is hitting .389 (7-for-18) to pace Waterloo's offense.