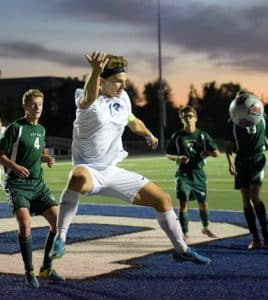 Only a few regular season games remain for the Columbia, Gibault and Waterloo soccer squads ahead of what promises to be an exciting postseason.
All three local teams are in Class 2A for the first time this season, meaning a rivalry showdown or two is inevitable.
Gibault and Waterloo will compete in the Civic Memorial Regional. If both teams win their respective Oct. 17 match-ups, they will battle each other for a regional crown on Oct. 21.
Columbia, which is hosting the sectional round, will compete in the Mascoutah Regional beginning Oct. 17.
The Eagles picked up shutout wins over Freeburg, Marquette and Salem last week to remain unbeaten at 19-0-2 entering Tuesday's contest against Collinsville (result not known at press time).
Sam Spivey scored two goals in last Tuesday's win over Freeburg. Riley Hubler, who leads the team with 20 goals and five assists, scored the game's only goal at Marquette last Wednesday. On Thursday, Spivey scored two goals with an assist and Jake Bridges added two goals in a 7-0 senior night win over Salem.
Columbia plays at Alton on Thursday.
Gibault (10-6-2) lost two of three recent matches, all against tough teams. 
The Hawks dropped a 4-3 contest at Belleville East last Tuesday. Zack Gillan and Cam Kincheloe scored for Gibault. On Thursday, the Hawks pulled off a 2-1 victory at Althoff. Karson Huels and Logan Doerr notched the goals.
On Monday, Gibault lost a tight 2-1 game against Collinsville. Huels scored the goal for the Hawks.
Gibault plays at O'Fallon on Thursday and will host Triad this Saturday afternoon.
Waterloo (11-8) improved to a perfect 7-0 in Mississippi Valley Conference play with a 6-0 victory last Tuesday over Jerseyville.
Hayden Reese netted a hat trick, with Justin Kohler adding two goals of his own. Kohler leads the 'Dogs with 14 goals and nine assists this season.
Waterloo topped Mascoutah on Tuesday, 3-0, and will be at Highland on Thursday.