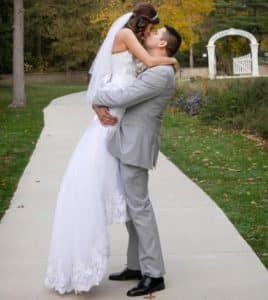 Elizabeth Anne Hubbs and Jason Patrick Rice, both of Naperville, were married Oct. 29, 2016, at the Old State Capitol, Springfield, Max Daniels officiating.
The bride, who was given in marriage by her father, is the daughter of Keith and Nancy Hubbs. The groom is the son of Vicki and Willis Forrester.
The maid of honor was Mary Jenkins. Bridesmaids were  Beth Forrester and Sarah Hubbs.
The best man was Kyle Danalewich. Groomsmen were Kyle Hubbs and Josh Hubbs.
Guests were seated by Sonny Saenphimmachak, Kaylanie Story and Jessica Schmedeke.
The bride is a 2007 graduate of Waterloo High School and a graduate of Southern Illinois University at Edwardsville. She is employed as a digital content specialist.
The bridegroom is a 2006 graduate of Christopher High School and Southern Illinois University at Carbondale. He is employed as a correctional officer.
A reception was held at the Abraham Lincoln Presidential Library and Museum, Springfield.
The couple will honeymoon in spring 2017 in Gettysburg, Pa.