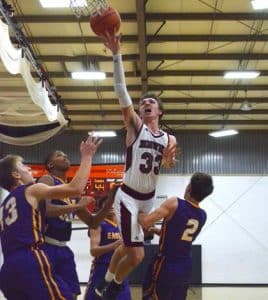 The Gibault basketball team experienced the thrill of victory and agony of defeat in nailbiting fashion over the weekend.
The Hawks led for much of the game before losing in overtime to Catholic rival Mater Dei on Friday night.
On Saturday, Gibault nearly let an eight-point lead slip away in the fourth quarter before edging Civic Memorial by a bucket.
"We gave some baskets away in both games, but in the Mater Dei game, we shot it poorly," longtime Gibault head coach Dennis Rueter said. "In the Civic Memorial game, our offense was pretty good."
The Hawks shot just 36 percent from the floor for the game against Mater Dei, but still led 20-12 at halftime and 34-25 after three quarters.
The Knights came alive in the fourth quarter, however, tying the game late to send it into overtime.
The two teams battled for nearly all of the extra frame without scoring until Mater Dei nailed the game-winning basket in front of a capacity crowd with less than 10 seconds remaining.
Trevor Davis led the Hawks with 14 points, 13 rebounds, three steals and three blocked shots. Ryan Gool and Collin Kessler added 10 points each.
Gibault bounced back from Friday's narrow defeat with a 55-53 win over Civic Memorial on Saturday.
The Hawks led 31-28 at halftime and appeared to have seized momentum entering the fourth quarter up 47-39. But defensive lapses and hot shooting by the Eagles made for a nervous finish.
Civic Memorial cut it to just a 53-51 game at 1:38 before a Davis bucket 30 seconds later put Gibault up 55-51. The Eagles answered just 10 seconds later to make it 55-53, but could not tie it up despite multiple opportunities in the waning seconds.
The Hawks shot a sizzling 63 percent from the floor, including 46 percent from three-point range.
Davis again led the way with  18 points on 8-of-10 shooting to go along with 17 rebounds. Kessler added 14 points and Karson Huels chipped in with 13 points, including three big three-pointers.
The Hawks (9-6) played at Father McGivney on Tuesday night (result not known at press time) and will host Mascoutah on Friday.
Davis leads the team in scoring at 18.4 points per game and in rebounding at 9.5 per game. Kessler averages 14 points per game.
In other recent hoops action, Valmeyer defeated Kaskaskia Division foe Dupo on Friday, 82-68. The Pirates trailed 38-37 at halftime, but erupted in the second half to pull away.
Michael Chism poured in 32 points to lead Valmeyer, including perfect 10-for-10 shooting from the floor. Phillip Reinhardt added 19 points, including five three-pointers.
Kelvin Swims scored a game-high 36 points to lead the Tigers.
On Monday night, the Pirates edged Perryville, 60-57. Valmeyer pulled out to a 25-13 lead after one quarter, but let Perryville back in the game.
Valmeyer shot 52 percent from the floor for the game.
Chism again led the way with 18 points and pulled down nine rebounds. Vaughn Larsen added 17 points. Owen Miller chipped in with eight points, 10 rebounds, seven assists and four blocks.
Valmeyer (7-9) hosts Valley Park on Jan. 18. Chism leads the team in scoring at 17.7 points per game and rebounding at 10.4 per game.
Waterloo split two recent contests, falling at Pinckneyville last Tuesday before posting a big conference win on Friday.
The Bulldogs lost 60-40 at Pinckneyville, as Dylan Hunt led the way with 12 points and 12 rebounds. Griffin Lenhardt added 10 points.
On Friday, Waterloo got back in the win column at Mascoutah, 49-31. The 'Dogs led 17-6 after the first quarter and never let up.
Hunt led the way again, scoring 18 points. Ben Huels added 10 points and eight rebounds.
Waterloo (5-9) played Tuesday night at rival Columbia (result not known at press time) and will next compete in the annual Sparta Mid-Winter Classic, which takes place Jan. 17-20.
Columbia had been riding high until running into Breese Central on Friday night. The Cougars dismantled the Eagles, 56-36, in a Cahokia Conference showdown.
Jordan Holmes scored 26 points for the Eagles, hitting 10 of the team's 12 field goals on the night.
Following Tuesday's contest against Waterloo, the Eagles (9-6) host Highland this Friday night.
Holmes leads the team in scoring at 22.3 points per game. He is also averaging nearly eight rebounds per contest.