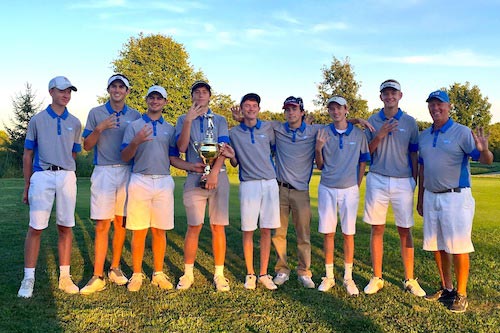 Call it a "four-peat" for the Columbia High School boys golf team.
On a beautiful late-summer day for golfing at Annbriar in Waterloo, the Eagles bested cross-county rivals Gibault, Waterloo and Valmeyer to claim the Monroe County Golf Tournament championship for the fourth consecutive year.
Columbia shot a nine-hole team score of 159, which was 19 strokes better than second-place Gibault at 178. Waterloo posted an overall team score of 179; Valmeyer placed fourth at 205.
Brandon Harm of Columbia took home first place individual honors with a one-over-par 37. Waterloo's Ryan Stites and Gibault's Alex Dietz tied for second at 39. Columbia's Andrew Wittenauer shot a 40.
For a recap of earlier high school golf action this fall, pick up the Aug. 31 newspaper or click here.