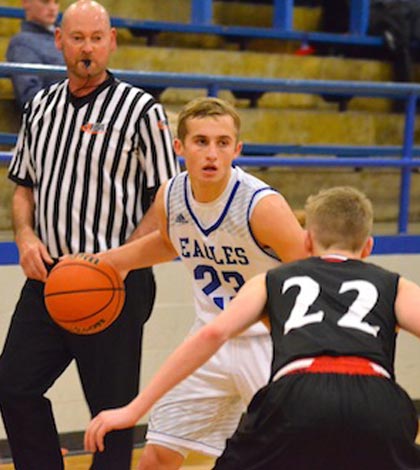 It was the Jordan Holmes show on Wednesday night as the Columbia Eagles advanced to the championship game of the Freeburg-Columbia Holiday Tournament with a 55-50 win over Triad.
The junior guard hit shots from up close, far away and in between as part of a career high 30-point night. Holmes added six rebounds, five assists, four steals and two blocks for good measure.
"He's special," Columbia head coach Mark Sandstrom said after the game. "Division I schools, they need to know who he is. I think he's flying under the radar. But man, he's a special talent."
With the win, the Eagles will play Marquette for the tourney title at 7 p.m. Thursday in Freeburg. Columbia is seeking its third straight holiday tourney title.
Both teams played evenly for much of the first half. A Noah Moss basket gave Triad a 21-18 lead with five minute to go in the half, but Jared Germain answered with a three-pointer to tie it. Holmes and Moss traded three-point buckets in the final minute of the first half, and then Holmes nailed a shot at the halftime buzzer to put the Eagles up 30-28 heading into the locker room.
Columbia's defense forced some Triad turnovers to start the third quarter, leading to an 11-3 run that gave the Eagles a 41-31 edge.
"(At halftime) we talked about 'somebody's going to make a run there, and we want it to be us,'" Sandstrom said.
Triad battled back late to make for a nervous finish. With the Eagles up 49-45 and just more than two minutes left in the game, Columbia starter Greg Long fouled out of the game on a charging call. After Columbia's defense stripped the ball on a shot from Moss, a bad inbounds play led to Triad scoring to make it 49-47 with 32 seconds remaining.
Key late free throws by Holmes and Germain sealed the deal for the Eagles who won their seventh straight game to improve to 9-4 on the season.
"That's a good team we just beat," Sandstrom said.
The Eagles shot 57 percent from the floor for the game. Drew Worley made two important three-pointers for Columbia. Triad was led by Moss with 16 points and Kyle Cox with 15.
Sandstrom said the title game against Marquette should be a good one.
"They are well-coached. It's going to be a challenge," he said. "We know what they do, and they know what we do. Both teams match up very well against each other. It will be a heck of a battle."
In other Freeburg tourney action from Wednesday, Waterloo improved to 3-8 on the season with a 64-49 win over cross-county foe Valmeyer. The Bulldogs led by just two after one quarter of play, but pulled away after that.
Griffin Lenhardt led the way with 20 points and five assists for Waterloo. Ben Huels added 17 points and Eli Dodd added 14 points and 10 rebounds.
Michael Chism led the Pirates with 16 points and nine rebounds.
Waterloo will play Freeburg in the fifth place game set for 3:30 p.m. Thursday.
Gibault ends Pinckneyville tourney play
Things started off promising for the Hawks at the Duster Thomas Hoops Classic in Pinckneyville, but then it turned south.
On the heels of exciting Tuesday wins over Greenville and DuQuoin, Gibault was primed for a tourney title run on Wednesday.
But the Hawks dropped a hard-fought contest with host Pinckneyville, 45-36, and then lost in overtime to Carterville in the third place game, 69-65.
Gibault (8-5) shot just 37.5 percent from the floor in the loss to Pinckneyville. Trevor Davis, who was selected to the all-tourney team, led the way with 16 points.
Davis was held to just seven points against Carterville, with Collin Kessler and Garrett Rueter each scoring 21 points to lead the way.
For our earlier recap of holiday tournament action, click here.