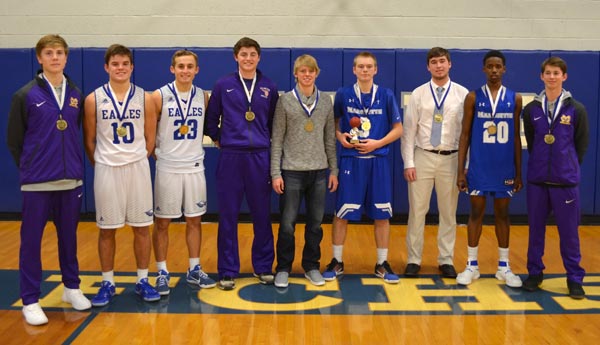 Columbia fell just short in its quest to win three straight holiday tournament titles Thursday night at Freeburg, falling to a tough Marquette team, 52-45.
The Eagles held a 23-22 halftime lead following an evenly played first two quarters that featured hard-nosed defense from both teams.
The Explorers applied even more defensive pressure to start the second half and took a 26-23 lead halfway through the third quarter.
Columbia was unable to convert on multiple key scoring opportunities, which allowed Marquette (13-1) to get some late breathing room.
The Eagles were held to just 36 percent shooting from the floor, including 2-for-21 from three-point range.
Jordan Holmes, who was selected along with teammate Greg Long to the all-tournament team, scored a game-high 24 points. Long added 10 points.
Columbia (9-5) returns to regular season action by hosting Breese Central on Jan. 6 and Waterloo on Jan. 10.
In the fifth place game, Waterloo picked up its third straight win with a 50-33 victory over host Freeburg.
The Bulldogs trailed at halftime, 26-21, but put together a 14-0 run to open the second half and take charge of the game from there. Waterloo allowed just seven points in the second half.
Ben Huels scored 21 points and grabbed nine rebounds to go along with five steals for the 'Dogs. Dylan Hunt, who was named to the all-tourney team, added nine points and nine rebounds.
Also on Thursday, Dupo snapped a six-game losing streak with a 61-57 win over Sparta in the consolation game.
Austin Francis poured in 17 points for the Tigers. Mikey Overbey added 15 points.
Joining Columbia's Holmes and Long and Waterloo's Hunt on the all-tourney team was Valmeyer junior Michael Chism.