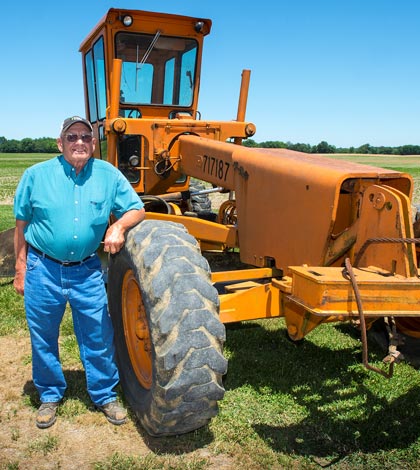 The rural roads of eastern Monroe County have been the life and livelihood of recently retired Road District 1 Commissioner Marvin Wiegand for most of his adult life.
While he has farmed and had other jobs — and spent 21 months in the Army — Wiegand has been closely connected to many of Hecker's essential thoroughfares throughout his years.
The Republic-Times recently visited Wiegand at his home south of Hecker – appropriately, on Wiegand Road.
"The family is clustered around here. Sometimes we call the area 'Wiegandville,'" said his wife, Mary, with a laugh.
Wiegand went to work in Road District 1 in 1955 at age 16.
"My first work was cleaning culverts, by hand, with a shovel. The dirt was packed in and dried hard," he said.
He soon graduated to cleaning ditches with a tractor and loader.
In 1959, his father, Henry, was elected as road district commissioner, and Marvin also went into the Army, where he was stationed in Massachusetts. There, he was sent to Cape Cod to train summer reservists, and "they found out I could run a road grader," he said.
That, of course, harkened to his days doing that in the road district.
"I wanted to go overseas," he added, but instead, "they sent me home three months early at 21 months," he said.
Wiegand worked part-time for his dad in the years following his return, filling the rest of his days with farming and other tasks.
He married his wife in 1961. They took over the family farm in 1963, and today have three children – two daughters and a son – and six grandchildren.
In 1986, upon his dad's retirement as road district commissioner, Wiegand decided to run. He was elected to what would turn into eight terms — for a total of 32 years — of being responsible for approximately 40 miles of rural roads in the district.
Wiegand told how roads were much rougher when he was a youngster, in his first years of helping maintain them. Many were in fact nothing more than dirt — dusty when it was dry and muddy when it rained or thawed.
"There were basically just two ruts in the dirt," he remembered. It would be years before roads would start being graveled, oiled and chipped.
But as rough as the roads and work could be, Wiegand said he enjoyed the outside work and especially the machinery and equipment operation.
"And he never hesitates, regardless of weather," his wife said. "It is never too cold or too hot for him to head out and maintain the roads."
"I have a very understanding wife," Marvin responded.
He told how the district obtained its first road grader when he was relatively new to the position.
"It came from the Caterpillar dealer in Salem. I went there and drove it back here," Wiegand remembered. "I never did understand why we didn't have it delivered. It was probably a dollars and cents decision."
Wiegand said the biggest challenge in his decades involved with Road District 1 has been flooding. The district borders the Kaskaskia River, and a lot of runoff from St. Clair and Monroe counties courses through the district — under its bridges and in low spots over roads.
"The bridge across Richland Creek on LL Road has had its approaches washed out four or five times since I've been commissioner," he said. "It's happened twice in the last six months."
He cited this spring's 10-inch rainfall as the most recent occasion.
"The bridge itself is strong. But the power of the water washes holes four feet deep in the approaches," he said, opining that more paving, buildings and grass grooming regionwide is causing greater runoff.
Asked about snow clearance, he said with two trucks, they can clear roads in about eight hours, unless there's very heavy accumulation like experienced in the early 1980s.
Wiegand spoke highly of the district's close relationship with the Monroe County Highway Department.
"When we have large projects, they bring their equipment and knowledge to bear. We work well together," he said.
"Marvin Wiegand has always been a pleasure to work with," Monroe County Engineer Aaron Metzger said. "He did an excellent job of maintaining the roads he was responsible for, for many, many years. For the money road district commissioners are paid, he was a great value to everyone who depended on his skill and work."
Concerning his decision to retire, Wiegand said he had targeted approximately 80 years of age as the time to do so.
Asked what's next, he said, "80 is a little late to develop new habits."
As he walked around his farm to visit the district's trucks — a loader and his beloved grader, still parked there — Wiegand said the new commissioner, fellow farmer Dwight Kern, who has worked with him in the district for the last 11 years, will pick up the equipment and move it to his own farm.
"But that won't happen until we get a break from this good weather. He's too busy right now," Wiegand said.
As the day wrapped up, Wiegand looked over his shoulder at the newer grader and said that when it was bought used from the state it had lights on its roof.
"But the trucker delivering it from Effingham drove under an overpass and lost the lights. A few more inches and he might not have made it at all," he reminisced.
Maybe it was a smart decision to have him drive the older one to his farm instead of having it delivered after all.